Sometimes you need a hotel that offers a little extra something for your trip. Whether you're looking for a delicious onsite restaurant, some private meeting space, or a little bit of both - this list has you covered!
This newly-renovated hotel in the heart of downtown South Bend boasts an onsite restaurant and full-service Starbucks for those early wake up calls. They offer meeting space with catering and AV services. The 291 room property is also connected to Century Center - downtown's resident convention center - for those looking for a larger meeting space and the convenience of an easy walk!
Waterford Estates Lodge
This 200 room property offers a grand ballroom, as well as a couple smaller rooms for groups and events and in-house services for easy planning. The onsite restaurant, The Bend Pub and Grille, is the perfect place to unwind after a long day - sit by the crackling fire and enjoy a wonderful meal!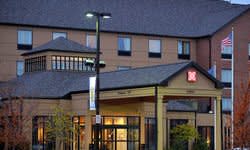 Located on the edge of the Saint Mary's College campus, this hotel boasts 100 rooms and onsite restaurant, Bistro 933, offering a delicious menu you can check out here! The HGI is attached to the Gillespie Conference Center, making for a beautifully situated property with abundant space.
Morris Inn (pictured above) is the resident hotel on the University of Notre Dame campus, and boasts 150 rooms and a AAA Four Diamond rating. The two onsite restaurants, plus outdoor fireside terrace, make for relaxing spaces to unwind. The abundant conference space, plus connection to the Notre Dame Conference Center, makes this hotel a one-stop-shop for many visitors.