Let's be honest, sometimes the best thing about a conference isn't the conference.
Whatever is planned for after the general sessions, keynote speakers and breakouts might be the thing to get your attendees talking. That idea leads to a question: What will the buzzworthy events and must-share moments be at your next meeting?
That's where the destination matters. Bringing your meeting to The Bend is one step toward finding an answer. Even better, Visit South Bend Mishawaka is eager to help.
We've already brainstormed some ideas that you can find below. But first, let's make sure your event qualifies for our Specifically Summer Sponsorship. This part is easy. Does your conference take place between May and September? If so, perfect. Now all you need to do is submit an RFP to us between July 1 and Aug. 31.
If your meeting fits the bill and you can send over the RFP, we'll work with you to design an after-hours experience your attendees won't soon forget. We'll make sure it aligns with your event, then we'll pick up the tab.
Contact Us 
If you're ready to send over that RFP, it's time to reach out to a member of our sales team. If you'd like to learn a little more, check out a few of our ideas below before sending over that RFP. Consider them a starting point for future discussions.
Patrick Derksen
Sales manager
pderksen@visitsouthbend.com
574-400-4006
Meet Me on the Island
Nothing says the day is done like heading outside for some fresh air. Connected to Century Center by walking bridge, Island Park is one of the most unique settings in the state an ideal setting to unwind. Your attendees can enjoy sweeping views of the St. Joseph River with a beverage in hand and live music playing in the background.
Photos on the Field
Few settings are more legendary than Notre Dame Stadium, located just 10 minutes from downtown South Bend. Walking down the tunnel and onto the field, just like the Fighting Irish football team does during fall, is a great photo opportunity and way to cap a campus tour. Imagine your group's name and logo splashed across the video board or the chance to slap the "Play Like a Champion Today" sign.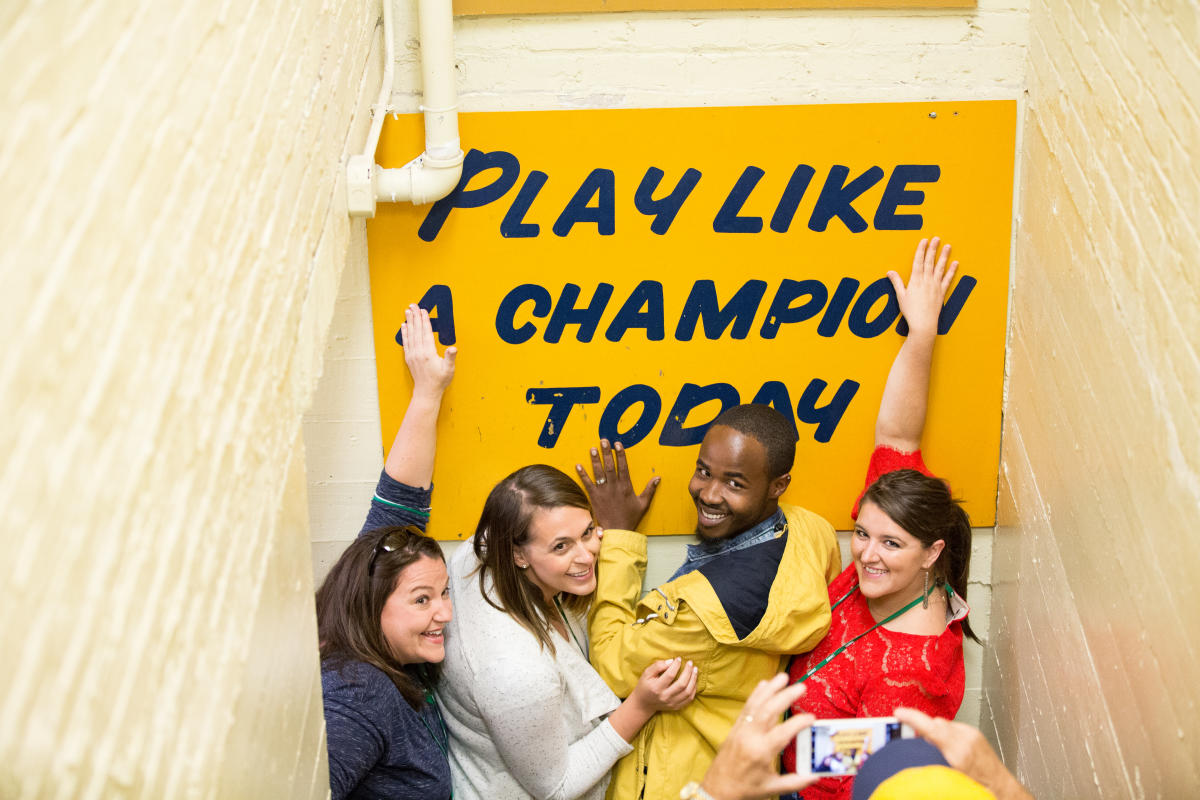 Cocktails Under the Marquee
Find yourself in the heart of downtown, mingling on the plaza underneath the Morris Performing Arts Center's beautiful marquee. Your group can enjoy cocktails and appetizers while taking in the sights and sounds of our city. We'll add some local live music to the mix too.
An Outdoor Adventure
Perhaps you're looking to get some adrenaline going after a day of meetings. Embarking on an outdoor adventure is sure to do so. Your attendees can hop in a raft and battle rapids at the East Race Waterway, which runs through the heart of downtown South Bend. Or maybe they'd like to get airborne at Edge Adventures, a series of aerial ropes courses at Rum Village Park. Take your pick.