Angie Anderson is the founder of Belle Behind the Ball Wedding and Event Planning. Angie is dedicated to personalizing each event with her own creative touch. Read Angie's story of how she found South Bend and how you can find your perfect wedding venue in The Bend. 
---
Fate is a funny thing. An amazing thing.
I am from New Jersey. My family has always been die-hard Notre Dame fans, led by my grandfather's passion for the Fighting Irish. But that was my mom's side of the family. And my dad was a huge NFL fan, so in our house, we didn't watch much college football. So you can imagine my wonderment all these years later to be working and living in the home of the Fighting Irish!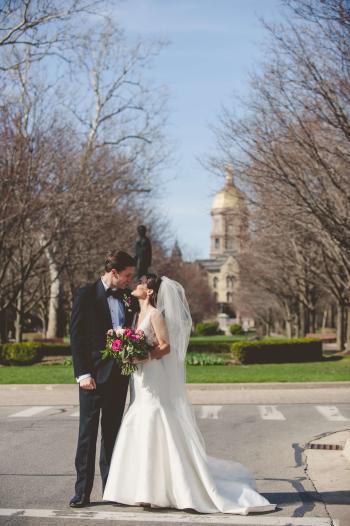 How did that happen?
Well, when I was 30, I met the most handsome guy from Indiana at the beach on the Jersey Shore! Fast forward to 2006, when I moved to Indiana to create a life with that Fighting Irish fan with the beautiful blue eyes! A year after that, I started my own wedding planning business and now, you see… I get to the point of this story! I get to plan weddings in South Bend! That is my "job." I work often on the campus of Notre Dame and at the breathtaking Basilica of the Sacred Heart. For that, I am blessed. When I drive to work, I know this is truly my fate! And it amazes me every day!
For so many Notre Dame alumni, returning to the University of Notre Dame to get married is an honor and a privilege felt deep in their souls. God. Country. Notre Dame.
Let's "Marry Like a Champion!" That is the easy decision.  But then comes the question, "Where will we hold our Reception?" Well, that is easy too, if you do it right! (And, I am going to give you some insider secrets). We are very lucky in the South Bend area to have a vast array of reception venues! From the classic, time-honored tradition of the Morris Inn and the charm of the St. Joe Farm to the elegance of the Palais Royale and the industrial chic feel of The Brick. There truly is something for everyone.
If you are not familiar, the Basilica of the Sacred Heart and the chapel at St. Mary's College both open their wedding bookings for the following year on the first Monday of March. Then it is a mad dash to book your date at your preferred reception venue.
Whether you are a local couple looking to marry or you are throwing a destination wedding for your guests in our sweet town, here are some hints and tips for you!
RESEARCH YOUR DATE: There are many events that happen from a baton twirling competition and sports camps to graduation weekend that will all greatly impact your ability to book a hotel room block for your guests. If you need help, Visit South Bend Mishawaka would be happy to assist you with dates for local events.
RESEARCH THE VENUE'S FOOD AND BEVERAGE MINIMUMS: Especially for a Saturday night, you don't want to sign a contract and then realize the venue is way out of your budget because you have to hit a minimum (and remember, that min is BEFORE 7% tax and 20% gratuity)
MANY VENUES SELL OUT THEIR MOST POPULAR SUMMER DATES IN MARCH FOR NEXT YEAR: If you have your heart set on a venue and you can book it in January or February, that would be your best bet to get the wedding date you want.
IF YOU ARE PLANNING FROM OUT OF TOWN, IT MIGHT BE DIFFICULT TO KNOW WHAT VENDORS TO TRUST: There are great resources, such as Michiana Wedding Network- a free resource that lists only the finest wedding professionals in Michiana. As a wedding planner, I personally know and have worked with each professional on that list and feel confident recommending them to any of my Clients.
DEFINE THE PRIORITIES THAT ARE MOST IMPORTANT TO YOU: That will help you narrow down the options. What "vibe'' do you want? Do you want a venue with outdoor cocktail hour space? Do you want to hire your own caterer? Do you prefer your Guests stay at the same location as your Venue? How much work do you want to do? Is a DIY venue right for you or do you want a dedicated staff to take care of the details? What are your lighting needs? If you want a romantic candle light feel- less windows are better (the Sun sets around 10pm in the Peak of the Summer here) All these things need to be carefully considered.
ASK THE VENUE HOW MAY EVENTS THEY HOLD IN A DAY OR A WEEKEND: If you are planning on setting up the day before and your venue has a wedding that day, that may not be an option. Also, you may pay additional fees for Vendors to tear down on your wedding night (rather than the next business day), so if your venue has an event the following day, you will want to know.
ASK WHAT IS INCLUDED: Do they include table and chair rentals? Linens? Is the cake cutting an additional fee? Is China and Glassware included or do you have to rent that?
IF YOU DON'T GET THE DATE OR VENUE YOU WANTED, TAKE A DEEP BREATH: Inhale. Exhale. I promise you- it's going to be okay. Remember that fate thing? Yeah… it's working its thing. Everything is going to work out exactly as it was meant to be.
Do you want to learn about the many venues we have in South Bend Mishawaka for your wedding day? Check them out and start planning your dream wedding today!