Campus is home to over 50 different event spaces for meetings and events of all sizes. Some offer sweeping views of campus and Notre Dame Stadium.
The stadium is home to a premium collection of event spaces. These bring your group together in a historic setting, home to champions for decades. They also offer the option to add one-of-a-kind experiences like personalized stadium tours or dinner on the 50-yard line.
Customized team building activities could include flag football, curling at the Compton Family Ice Arena, 18 holes at Warren Golf Course (home to the 2019 U.S. Senior Open) and more. Guests could be greeted with a message on the Notre Dame Stadium video board.
You can put together meetings and events with the help of VenueND event specialists that handle the planning and coordination to ensure a successful event. Services include lodging arrangements, catering coordination, event space reservations, A/V set-up and registration management.
Let us show you some of the premier spaces VenueND has to offer.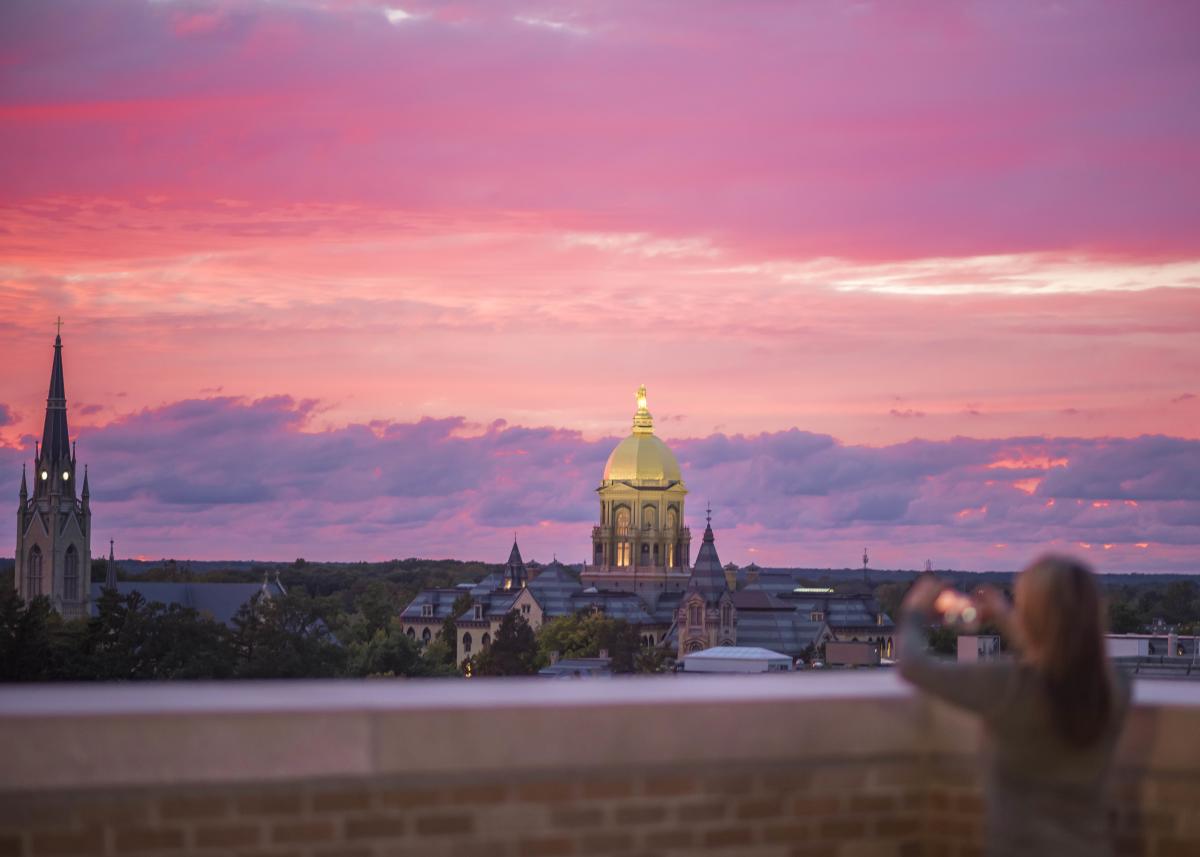 McKenna Hall
Projected to reopen September 2021.
Home to the Notre Dame Conference Center.
Boasts 15,000 square feet with room for up to 280 attendees.
Includes state-of-the-art technology for presentations and speeches.
Duncan Student Center
Dahnke Ballroom (shown above) is 10,000 square feet with capacities of 520 (conference), 480 (dining) and 720 (wedding/reception).
Rasmus Family Club is a reception venue with 4,000 square feet and a capacity of up to 300.
Two landings, each with a capacity of 60, offer beautiful views of campus.
Four outdoor terraces available.
Corbett Family Hall
Downes Club (shown below) can hold up to 480 for a reception/wedding, 270 for dining and 250 for a conference in its 5,300 square feet.
Two landings, each with a capacity of 60, have sweeping views of campus.
Four outdoor terraces available.
O'Neill Hall
Foley's is ideal for receptions with a capacity of up to 300 in just over 7,400 square feet. Features three distinct dining areas.
Morris Inn
On-campus hotel is rated at the AAA Four Diamond level.
Boasts 150 rooms, 28,000 square feet of meeting space and Rohr's, an on-site restaurant.
Find out more about all the spaces VenueND has to offer by clicking HERE. Centralized sales, reservation and event services teams function to provide easier and more transparent access to Notre Dame's variety of venues!
Reserve your date today: 574.631.1400 or VenueND@nd.edu.