As a Chicago transplant new to South Bend, discovering the best food in the area has been a priority, of course. Naturally, places that welcome my canine kid are even more appealing. What's better than a lazy Sunday brunch with your dog at your feet? I was pleased to discover that dogs are allowed on restaurant and bar patios. As the leaves begin to change and the weather starts to cool off, there is still plenty of time to take advantage of the best dog-friendly patios in the South Bend Mishawaka area.
Using reviews from Yelp, Facebook and loads of word-of-mouth recommendations and reviews, I have compiled a list of my ten most popular restaurants for you and your four-legged friend to enjoy. Of course, I couldn't fit every business on the list, but if you know of a great patio, give the restaurant a call and you're more than likely to find that your pooch is perfectly welcome.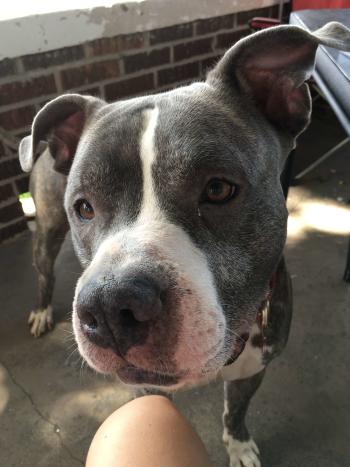 Meet my bottomless pit, Dingo!
It was hard to narrow down the top ten since there are so many wonderful dog-friendly spots in the South Bend area! I look forward to exploring (and eating) a lot more with my bottomless pit, Dingo.
South Bend Brew Werks
216 S. Michigan Street South Bend, IN 46601
Just about every person I talked to blurted out the name of this popular bar and restaurant before I could even finish asking my question. When summer arrives in downtown South Bend, you and your dog can enjoy the warm weather on the outdoor patio as your dog snacks on a treat while you sip on one of 20 delicious craft beers. *Service animals are allowed indoors*
A community-focused business, Brew Werks features local musicians, local art on the walls, furniture and décor sourced from the community and their menu is full of locally-sourced foods. With each beer you buy, you can choose a local charity to share the proceeds with and even "Beer it Forward" – pay for a beer to be enjoyed by a future customer.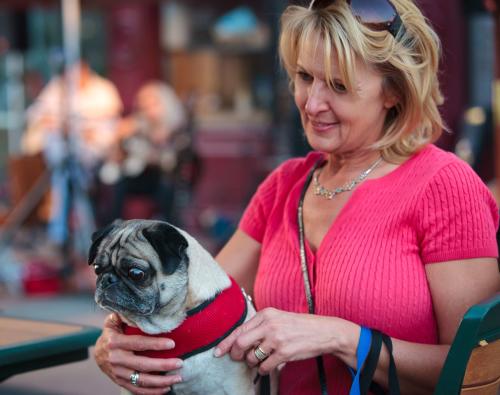 Fiddler's Hearth
127 N. Main Street South Bend, IN 46601
With an astounding amount of incredible reviews online, it's easy to see why this Celtic pub is one of the most popular in the area. It's about as close to Ireland as you can get and boasts a patio, communal seating inside, a cozy bar and beautiful décor.
Just about every dog owner I've met lists this as a favorite, particularly for brunch. There is live music just about every night, board games, a little library and an extensive and authentic menu featuring food from the seven Celtic nations. Fiddler's Hearth is a perfect place to enjoy the company of others – human and canine!
Uptown Kitchen
7225 Heritage Square Drive Granger, IN 46530
This list would not be complete without Uptown. Especially popular for its brunch, the menu is loaded with fresh, creative options, great coffee, drinks and desserts and canines are as welcome as people! The Kitchen's owner spends time with his customers and ensures his "doggie diners" are happy and comfortable as well. Due to it's overwhelming popularity, a reservation on the weekends is advised.
Chicory Café
105 E. Jefferson Boulevard South Bend, IN 46601
Another unique eatery with seriously impressive reviews, Chicory brings the taste and feel of New Orleans to downtown South Bend. The interior is dazzling and the menu features extensive coffee and espresso options, traditional Cajun/creole dishes as well as creative comfort foods, Chicory is the perfect place to relax with friends, study and, of course, hang out with your canine companion.
Not only is their patio dog-friendly, they provide water and "doggie sundaes" for their four-legged patrons. Chicory is a staple in the community and often hosts fundraisers, live music and other events that bring the community together. Be sure not to miss their last shrimp boil of the season coming in October!
O'Rourke's Public House
1044 Angela Boulevard South Bend, IN 46617
The first of many popular patios found along Eddy Street Commons is O'Rourke's – a wildly popular restaurant and pub with a great patio. With an extensive drink menu, delicious traditional Irish and pub fare and fun music, O'Rourke's is the perfect place to get together with friends, human and canine, after a Notre Dame game, for a sunny afternoon meal or to enjoy one of their events.
While this place can get pretty packed (especially on game days), the friendly staff will make sure you and your doggie companion are well taken care of during your meal.
Go For A Bike Ride After You Eat With Your Pup!
Villa Macri
225 Toscana Boulevard Granger, IN 46530
Back in Granger, this sprawling Italian favorite is surprisingly dog-friendly! A favorite among locals and visitors, Villa Macri has something for everyone. A large martini bar, a theater room for
viewing sporting events, fancier rooms for more upscale dining, a delicious deli and a patio for you and your pooch.
The menu is as big and accommodating as the restaurant and includes traditional Italian meals, steaks, soups, salads and plenty of drinks! Villa Macri often hosts live music which can be enjoyed from the patio in view of their beautiful imported Italian fountain. Villa Macri is perfect for any occasion, especially dinner with your four-legged date!
Peggs
127 S Michigan St, South Bend, IN 46601
Another great spot in downtown South Bend where you and your four-legged friend can enjoy breakfast, brunch or lunch that includes service with a smile. The outdoor patio is another great place for you and your pup to spend some quality time together under the warm sun.
BarBici – Italian Street Food
1233 N Eddy Street South Bend, IN 46617
Most frequently described as the "Chipotle of Italian food", this Eddy Street Commons gem is wildly popular with college students and locals alike.
A unique take on Italian food, at BarBici you get to build your own meal and watch as it is freshly prepared. With such big portions (for a fantastic price) there is more than enough for you and your dog to share on the patio. With fall coming, BarBici is the perfect comfort food, whether for a quick lunch or a leisurely sunset dinner with your canine companion.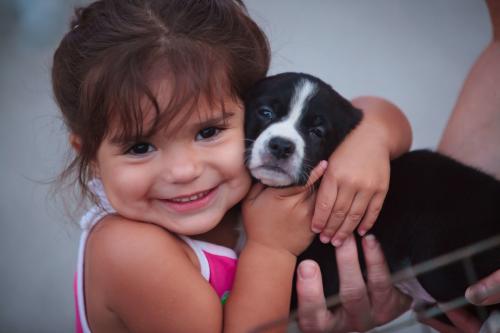 Brothers Bar & Grill
1234 N. Eddy Street South Bend, IN 46617
One of South Bend's favorite patios, Brothers is your ideal sports bar in the ever-popular Eddy St. Commons. While it probably wouldn't be a good idea to bring your pet here at night due to crowding and noise levels, many dog owners rave about perfect afternoons here. With 50 beers on tap, a tasty menu and excellent service, Brothers is a perfect place to meet with friends for a sunny lunch with the dogs.
McAlister's Deli
1130 E. Angela Boulevard South Bend, IN 46617 | 5758 Grape Road Mishawaka, IN 46545 
I was surprised to find out that McAlister's is a chain restaurant after almost everyone I've met in South Bend told me to eat here. The two closest locations are in South Bend and Mishawaka. With fresh sandwiches, comforting chili and plenty of other lunch favorites, McAlister's is perfect for a quick and easy meal on the patio! The friendly staff make you and your dog feel right at home.
Bonus Picks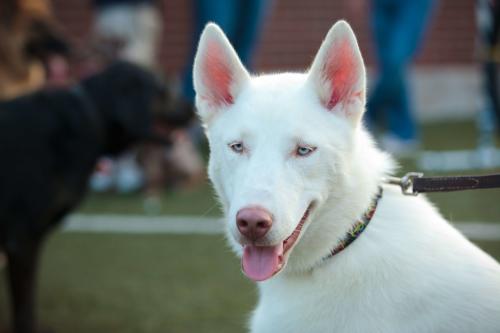 Drive-Thru Dogs
On the go with your pooch? Don't forget dogs are welcome on many patios including Noodles & Company, Chipotle, and more. Stop by Starbucks for a "Pupaccino" or McDonald's for a vanilla cone!
Kilwins for Dessert
1044 E. Angela Boulevard South Bend, IN 46617
Though I wanted to limit this list to the ten most popular dog-friendly spots, I couldn't ignore Kilwin's! Tucked into Eddy St. Commons, this place has to be the most popular sweet spot in town. With melt-in-your-mouth fudge and chocolates, fresh, creamy ice cream and caramel apples for fall, Kilwin's can't be ignored! After dinner, take your pooch for a stroll down the corner and enjoy a treat for both of you – Kilwin's saves cracked waffle cones so your dog doesn't miss out on dessert!
Let's Hear From You
We always appreciate feedback from our readers. The restaurants below were chosen by you, the readers, on our Facebook page. Make sure to follow us on Facebook, Instagram, and Twitter to stay up to date on everything happening around The Bend!
WOOCHI JAPANESE FUSION & BAR: An international cuisine is waiting for you in downtown South Bend. At Woochi, they serve more than just sushi.
CAFÉ NAVARRE: What was once a former bank has now been transformed into one of the best restaurants in the area. The outdoor seating has umbrellas and heaters available so you and your dog can enjoy a meal together no matter the weather.
URBAN SWIRL: You and your dog can satisfy your sweet tooth cravings with self-serve, frozen yogurt at Urban Swirl in Granger.
TONY SACCO'S: Enjoy a bite of tasty, coal oven pizza with your furry friend.
WAKA DOG CAFE: It has dog in the name, so of course your pup is invited to this South Bend restaurant where they offer a wide selection of specialty hot dogs