Why South Bend
Sports culture runs deep in The Bend. It starts with Notre Dame football, but that's not why so many planners and organizers bring their events here. Instead it's the easy access, world-class facilities and an abundance of hotel rooms. Find out more about why our destination is a great landing spot for your event. 
Location 
South Bend and Mishawaka are situated in the heart of the Great Lakes region between Chicago, Detroit, Columbus and Indianapolis. With easy access to I-80/90, South Bend is just 90 miles east of Chicago and 150 from Toledo. We're easily accessible from the south via U.S. 31 and I-94/U.S. 131 from the north.
Visitors can also fly into South Bend International Airport, which is just minutes from downtown South Bend.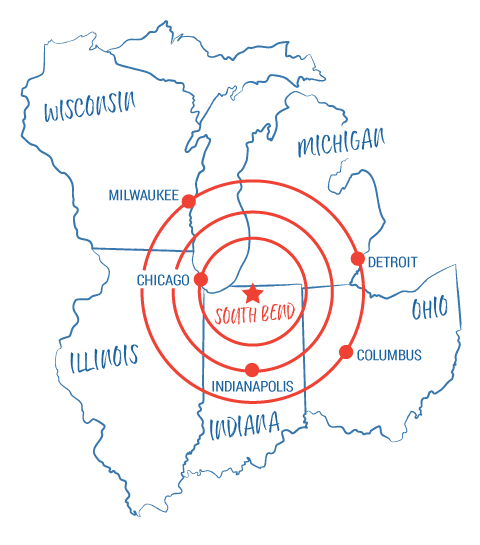 VSBM Sales Team 
Our sales team is always ready to work on your next event. From the bidding process through facility selection and hotel arrangements, we offer support from start to finish. We can provide detailed information on the destination, including other events happening in South Bend Mishawaka during your selected dates. Contact Sports Tourism Manager Nick Kleva for more information.
Event Services
Services the Visit South Bend Mishawaka sales team offers include site visits, pre-event promotion, information tables, maps and brochures, welcome signage and more.