Free Things To Do In The Bend
Free is everybody's favorite price. It's also easier to find activities at that rate than you might think. Parks, tours, museums and live music — these are some of the best things to do in The Bend at no cost.
Tour the University of Notre Dame 
Take a self-guided tour of beautiful campus landmarks like the Grotto, Basilica of the Sacred Heart, Golden Dome and Touchdown Jesus. Campus is the kind of place you won't mind getting lost. 
RELATED CONTENT: 10 Iconic Landmarks at Notre Dame
Art Beat
One of The Bend's signature summer events, Art Beat on Saturday, Aug. 20. It's a great way to check out work from the local arts community. The event typically draws visitors from across the region to browse handcrafted pieces, listen to music and taste food. You can window shop for free. But be warned: You might be inspired to buy.
Arts on the Race
An extension of Art Beat, local artists display (and sell) their work along the East Race in downtown South Bend as rafting happens nearby. Dates for Arts on the Race in 2022 are still being determined.
South Bend River Lights
Located in the heart of downtown South Bend, the River Lights are an dazzling showcase along the St. Joseph River. The tree forest is currently down with Seitz Park under construction. But you can still get a panoramic view of the lights from the Jefferson or Colfax bridges.
Browse Local Farmers Markets
Visit the South Bend Farmers Market year round for a look at vendors selling everything from fresh produce to handmade soaps and jewelry. Mishawaka's outdoor market takes place from 10 a.m. to 2 p.m. every Sunday from May 15 through Sept. 25 at Ironworks Plaza. 
Concerts at Potawatomi Park 
You can catch live music at Chris Wilson Pavilion in Potawatomi Park all summer. Stay tuned for upcoming dates. Don't forget to bring along a blanket or chair for seating.
First Fridays
Downtown South Bend bursts with activity the first Friday of every month. Themed nights include "Classic Downtown," "Dog Days of Summer" and "Downtown for the Holidays." It's a great opportunity to explore downtown's restaurants, shops and more with special activities and live music.
Fridays by the Fountain 
People descend on Jon R. Hunt Plaza, located in front of the Morris Performing Arts Center in downtown South Bend, every Friday from June through August for live music and a variety of food vendors. Grab a chair or blanket and relax on the lawn, grab lunch and listen to the live tunes.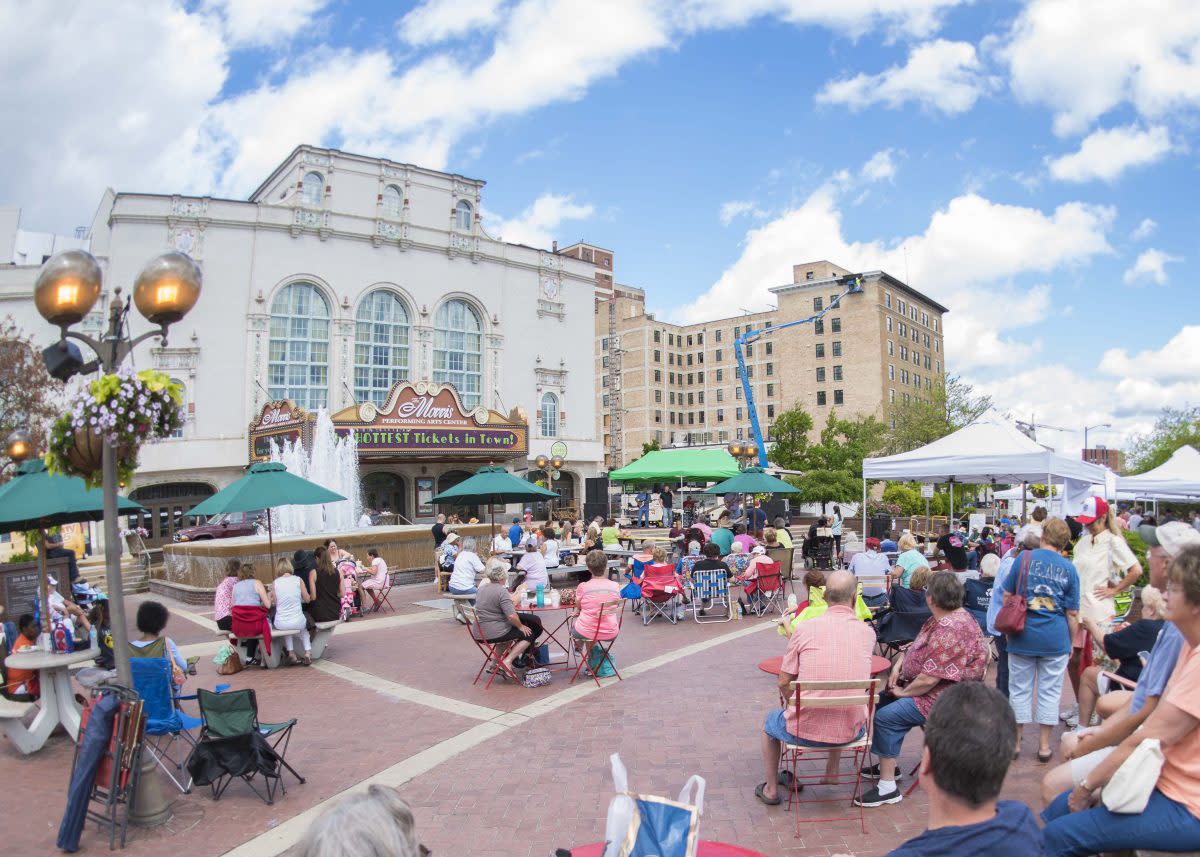 Parks Around The Bend
The Bend is flush with parks that serve as serene escapes in an urban environment. Pack a lunch and head to Howard Park, a downtown South Bend park that runs alongside the St. Joseph River. Leeper Park also utilizes the river. Several Mishawaka parks — notably Battell, Kamm Island, Beutter and Central — run along the river as well. Shiojiri Niwa Japanese Garden is a gem with some of the best scenery in The Bend. Many parks, especially those along the river, offer trails for walking, running or biking. Happen to travel with your dog? Perfect! The Niles Avenue Bark Park in South Bend and Prickett Park in Mishawaka both cater specifically to dogs.
RELATED CONTENT: Your Guide to Visiting Howard Park
Red Table Plaza Concerts 
Downtown South Bend's streets have a lunchtime soundtrack Monday through Thursday during the summer. Local musicians play live during that time, so it's a perfect opportunity to grab lunch from one of the nearby restaurants then relax at Studebaker Plaza.
South Bend Museum of Art 
Although not required, the South Bend Museum of Art does suggest a $5 donation for non-members to view its various galleries. It's well worth the support. There's a full spectrum of historical and contemporary art featured in five galleries. The museum's shop, the Dot Shop, features work by local and regional artists.