Dazzling wedding venues are often difficult to find, or at the very least aren't located close together.
Then there's the group of spaces at the University of Notre Dame. Did one of the country's most beautiful campuses not come to mind when planning your special day? Notre Dame isn't just for those with a preexisting connection — it's a brilliant setting for anyone's wedding activities.
VenueND, the University's in-house event coordinating organization, offers several spaces, plus the ease of being able to help plan the entire event from start to finish. It can host rehearsal dinners, ceremonies, receptions and more.
What's more, guests can stay on campus at a AAA Four Diamond hotel and the entire weekend's food and drink can go through the University's catering division.
Is your interest piqued yet? This piece outlines many of the spaces and services available through VenueND. Read on for more.
Reach Out for More Information 
If you're already interested in a wedding at Notre Dame, you can reach out to the VenueND team directly to get the conversation started.
Amber Kirk
Wedding Sales Specialist
akirk2@nd.edu
574-631-1775
If you'd like to learn more about the possibilities, read on.
Dahnke Ballroom
The University's largest venue, Dahnke Ballroom (pictured below) can accommodate up to 700-plus guests. But this space is about more than seating capacity. It's location on the seventh floor of the Duncan Student Center at Notre Dame Stadium means sweeping views of an iconic football stadium. Dahnke is a majestic, state-of-the art venue with a touch of history.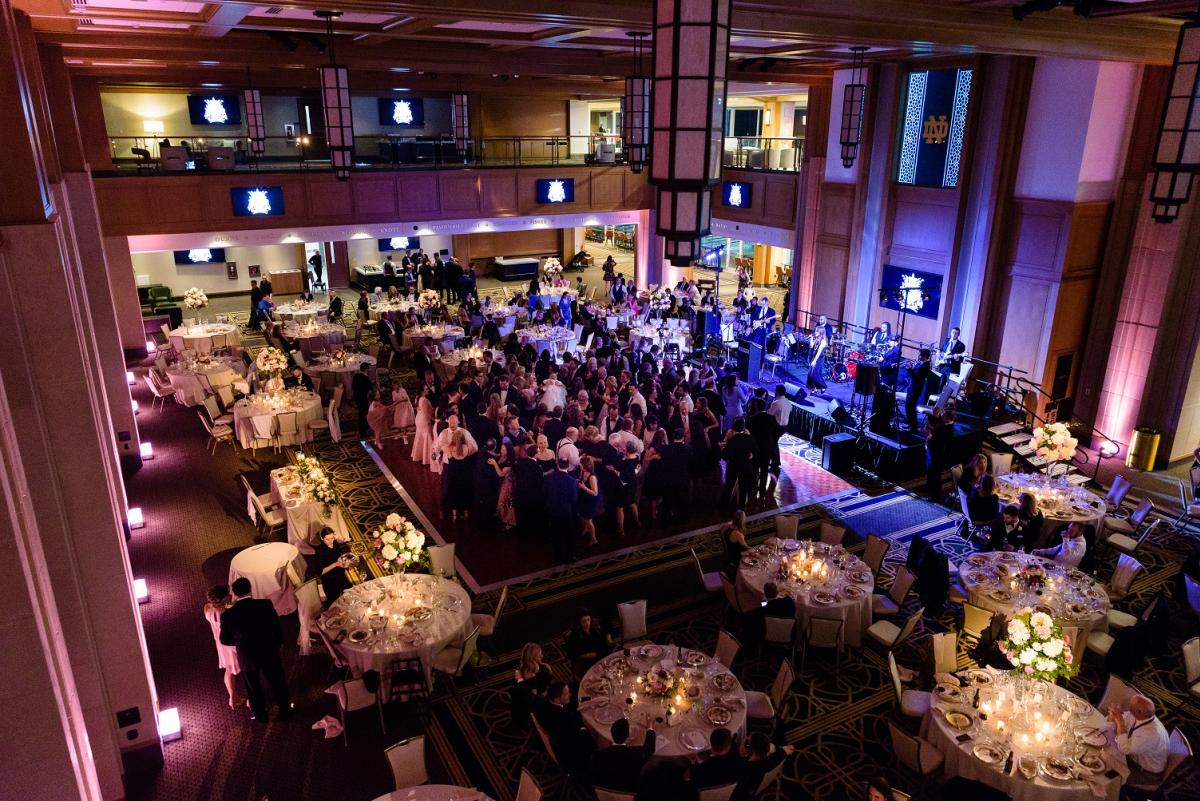 Downes Club
Across the way stadium from Dahnke sits the Downes Club inside Corbett Family Hall. Downes also offers beautiful views of the stadium with a timeless feel. It seats about 280 guests.
Eck Visitors Center
Unsure how one of the University's oft-used welcome centers might transform into a wedding venue? Don't be. The atrium's intricate detail and large windows for overlooking campus make for a unique setting, particularly for rehearsal dinners or receptions with around 150 guests.
Foley's
This reception space in O'Neill Hall on the south side of Notre Dame Stadium features three distinct areas: Chef's Dining, Main Dining and the bar, known as Joe's. Capacity runs up to 300.
Smith Ballroom
This classic ballroom inside the Morris Inn (renovated in 2013) can be combined with pre-function area to provide a spacious setting for any special day. Ideal for parties between 150 and 280, Smith Ballroom offers versatile setup options and beautiful possibilities when it comes to decorations.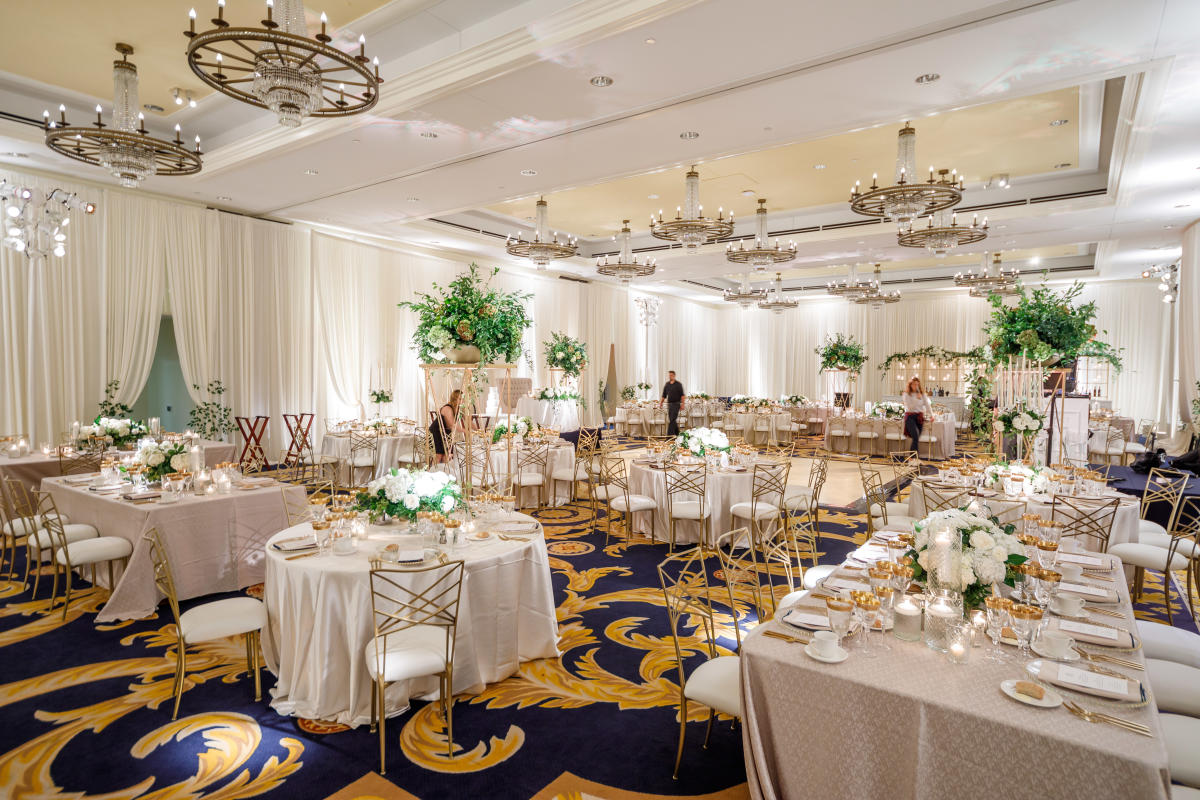 South Dining Hall
Another larger venue, South Dining Hall offers versatile setup options with plenty of room for anywhere between 100 and 350 people. Its stunning woodwork and gothic windows give South Dining Hall an opulent yet elegant feel.
More University Venues
Although menu weddings on Notre Dame's campus end up at one of the above venues, there are still more from which to choose. Club Naimoli at Purcell Pavilion, O'Brien's at Compton Family Ice Arena, private dining rooms at the Morris Inn and Seven on 9 at Corbett Family Hall are among the spaces available for rehearsals, receptions and more.
Finish Up the Planning
If you're already looking at a wedding day on campus, rest assured that VenueND can round out the planning process. Your guests can stay comfortably in the heart of campus with hotel accommodations at the Morris Inn. Meanwhile, University Catering can create a menu for the rehearsal dinner or reception that will leave a lasting memory.