Planning a wedding first requires a destination. And there are plenty of reasons to choose The Bend as the site for your special day.
South Bend and Mishawaka are central to the Great Lakes region, making our area an easily accessible spot for traveling guests. A wide range of venues fit different budgets and tastes, plus some offer beautiful view and unique possibilities.
But where to begin? We've compiled a list of some possible ceremony and reception venues to get your search underway. A day you'll never forget starts here.
NOTE: This is not intended to be a complete list of wedding venues in South Bend and Mishawaka.
Aloft South Bend
Nearly 6,000 square feet of modern event space sits on the sixth floor of this downtown South Bend hotel. That elevated view comes with 123 feet of floor-to-ceiling windows, offering unmatched views of the city. Aloft is walking distance to several bars, restaurants and other nightlife options.
The Armory
Situated along the St. Joseph River, this elegant venue opened in 2017 after a massive renovation of a building that dates to the 1920s. It can accommodate up to 400 guests. Ironhand Wine Bar shares some of the building as well.
Beiger Mansion
This mansion in Mishawaka provides an intimate setting for weddings, especially during summer when the veranda and pool area is open. It's one of The Bend's most unique event venues.
The Brick
Simple yet stunning, The Brick features a 5,000 square foot open floor plan and an outdoor patio. This former warehouse is brick inside and out with loft ceilings, dock doors that lead to he patio and exposed lighting for an industrial feel.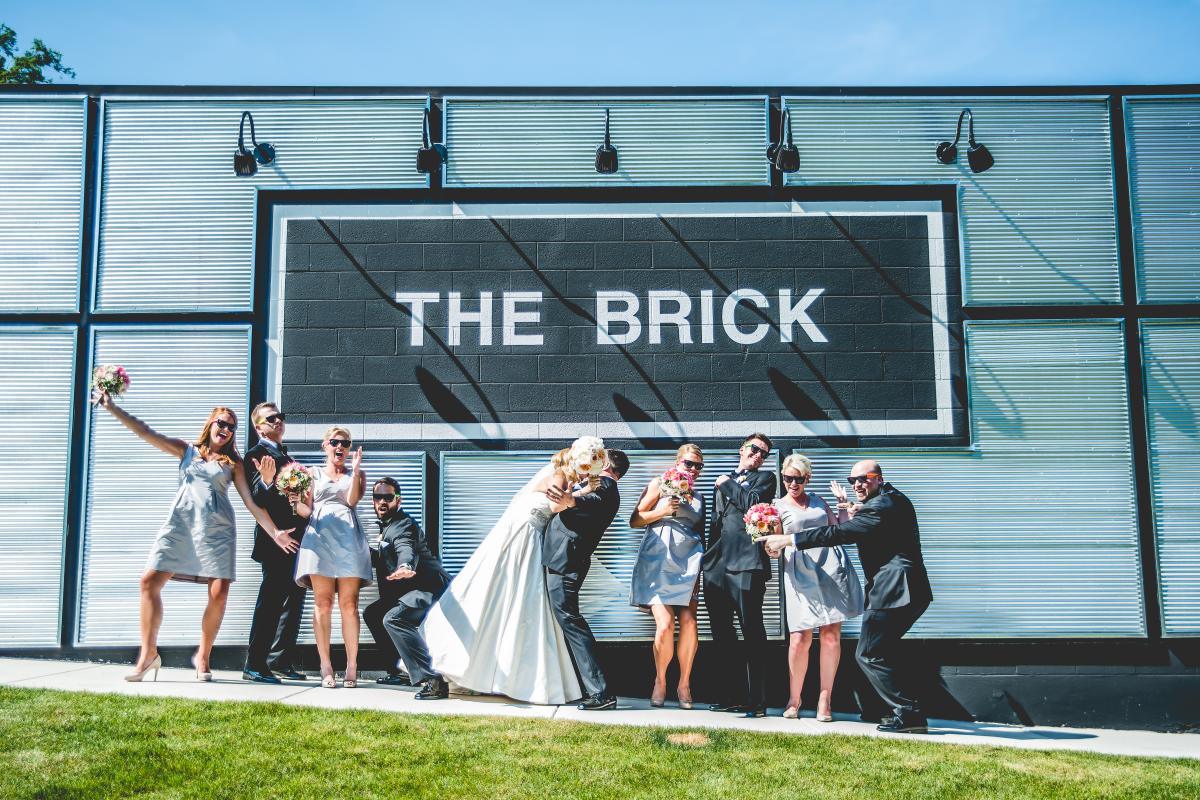 Century Center
The Bend's convention center is flush with multiple options for your wedding day — Great Hall, Island Park, Discovery Ballroom and Whitewater Ballroom. Great Hall boasts massive windows with a magnificent view of the St. Joseph River. Island Park, an outdoor space with a large canopy, takes you out onto the river and allows, perhaps, for interaction with the South Bend River Lights at night.
Doubletree by Hilton
Set in downtown South Bend, the DoubleTree offers St. Joseph River views and the ability for guests to stay on site. The grand ballroom is a wonderful backdrop for larger weddings with a capacity of up to 600. There are also smaller rooms for a more intimate setting.
Embassy Suites South Bend at Notre Dame
If you're looking for a memorable reception space near Notre Dame, this is your facility. The Bend's newest hotel features a contemporary ballroom at 4,500 square feet. One of Embassy's most unique spaces is a sixth floor outdoor deck that boasts sweeping views of Notre Dame's campus. It's an idyllic setting for an summer evening cocktail hour.
Gillespie Conference + Special Events Center
Convenience and elegance wrapped into one, Gillespie is an all-encompassing venue. The space itself includes an 8,400 square foot ballroom and is connected to two hotels – the 100-room Hilton Garden Inn and 150-room Inn at Saint Mary's. Gillespie is located right off the Indiana Toll Road just north of downtown South Bend, making it a great spot for out-of-town guests.
Holiday Inn Conference Center
This hotel in Mishawaka is the definition of full service with 115 rooms and 10,000 square feet of event space. There are in-house event planners, catering and a full-service restaurant. The hotel is also adjacent to a 70-room Candlewood Suites for more guest options.
Knollwood Country Club
Situated on rolling terrain in Granger, Knollwood is a peaceful setting for a wedding. Private rooms can be utilized for a rehearsal dinner or an exquisite reception for up to 270 people. Outdoor weddings are welcome as well. The property includes two beautiful, 18-hole golf courses.
Morris Inn
Venues don't come more classic than Smith Ballroom, which is ideal for parties between 150 and 280. The Morris Inn was renovated in 2013 and is the only AAA Four Diamond hotel in Northern Indiana. If you're looking into accommodations for your guests, it features 150 rooms, including 18 suites.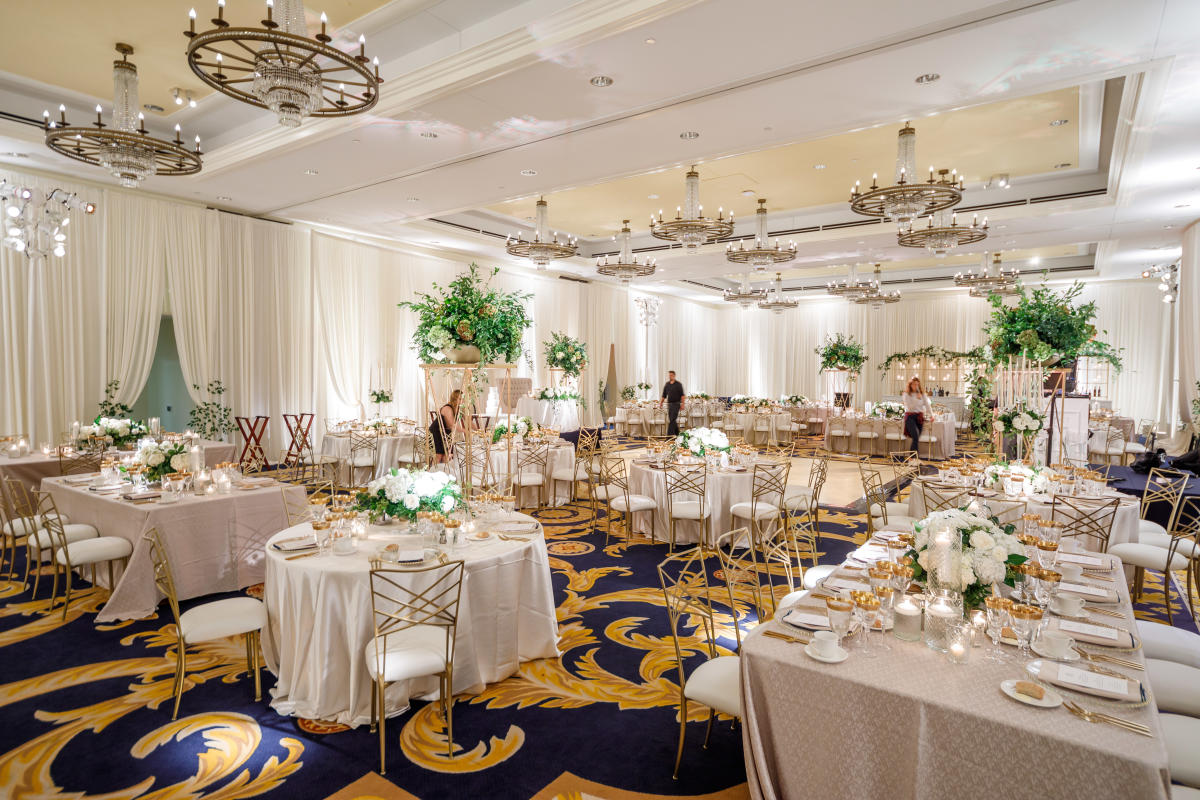 Notre Dame Stadium
Notre Dame's campus is home to several potential wedding venues. Some of the very best are inside Notre Dame Stadium, thanks to a massive construction project that finished up in 2017. Dahnke Ballroom inside Duncan Student Center is the largest, with a capacity of 700-plus. Downes Club in Corbett Family Hall also offers sweeping views of the stadium.
Palais Royale
Few venues in The Bend better combine rich history with stunning elegance. The Palais ballroom and the adjacent Morris Performing Arts Center opened in 1922 and is listed on the National Register of Historic Places. Its 8,800 square feet features a 35-foot ceiling, beautiful hardwood floor and can accommodate up to 600 guests for a wedding.
Ramada by Wyndham
A newly remodeled event space includes a ballroom that can accommodate up to 670 guests. On-site catering is available at this hotel conveniently located just north of the University of Notre Dame and minutes from downtown South Bend.
South Bend Country Club
Located just west of South Bend, this wooded retreat sits on property that's flush with natural lakes and marshes. The club itself dates to 1916 but the facility is modern. The Leighton Room can accommodate up to 250 guests with a dancefloor. There's also an expansive veranda that overlooks the course.
St. Patrick's County Park
If you're looking to connect with nature during your wedding, St. Patrick's County Park is one of The Bend's best outdoor venues. The Red Barn is often used for a more rustic feel. Goodhew Gazebo is another popular spot.
Tippecanoe Place Restaurant
Clement Studebaker's former mansion offers several options for ceremonies or smaller receptions. The grand foyer, house ground and state dining room are some of the most popular spots. Tippecanoe Place's history speaks for itself as the structure dates back to the late 1880s.
The Vault
Ideal for smaller receptions and rehearsal dinners, The Vault is aptly named. Its downtown South Bend location is a former bank and there is, in fact, a large vault in the back corner of the room The Exchange Whiskey Bar is also on the property and can be paired with The Vault for an all-encompassing event.
The Woodward
This contemporary space in downtown South Bend offers an ideal mixture of elegance and versatility. Large windows offer an elevated view of the city while the open floor plan leaves setup and décor to your imagination.