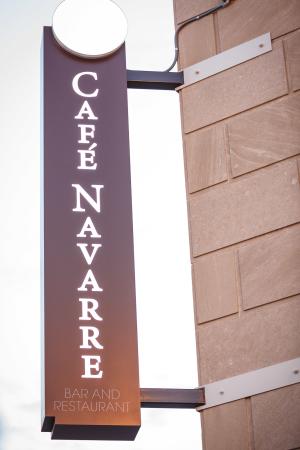 Café Navarre in downtown South Bend has a lot to celebrate. This downtown South Bend culinary delight kicked off the year being named one of the top 25 new restaurants in the Midwest by Midwest Living. More recently, their resident chef – Chef Matt – was named the best in our community in an annual area competition. This past summer, Midwest Living took things a step further and included Café Navarre on the new South Bend Foodie Trail. All things considered, Café Navarre is faring quite well, and quickly becoming the go-to restaurant in downtown South Bend for fine dining. Except you might think you're in the heart of The Loop in downtown Chicago – this place is that great!
Kurt Janowsky, owner of Café Navarre, has been in the local restaurant business for many years. He previously owned the Emporium in downtown South Bend, and the Ice House in The 100 Center in Mishawaka. Along with Café Navarre, Kurt has recently opened a very chic, speakeasy-style whiskey bar known as The Exchange in downtown South Bend. When the opportunity for Café Navarre came about, Janowsky hadn't been looking to open any businesses in downtown South Bend. He says the historic building, which used to be a bank, chose him. The ornate architecture in the space is showcased with strategically placed lighting and artwork, and the creativity of converting the space from a bank to a restaurant is nothing short of extraordinary.
Janowsky's passion for the industry, and what sets his establishments apart from so many others, is truly tangible. Many of the ingredients found in the Café Navarre kitchen are sourced locally, with the exception of needing a food item in its local "off-season." All spices used come from a business right here in town, and Janowsky says they are really focusing on getting even more locally-sourced ingredients integrated into the dishes.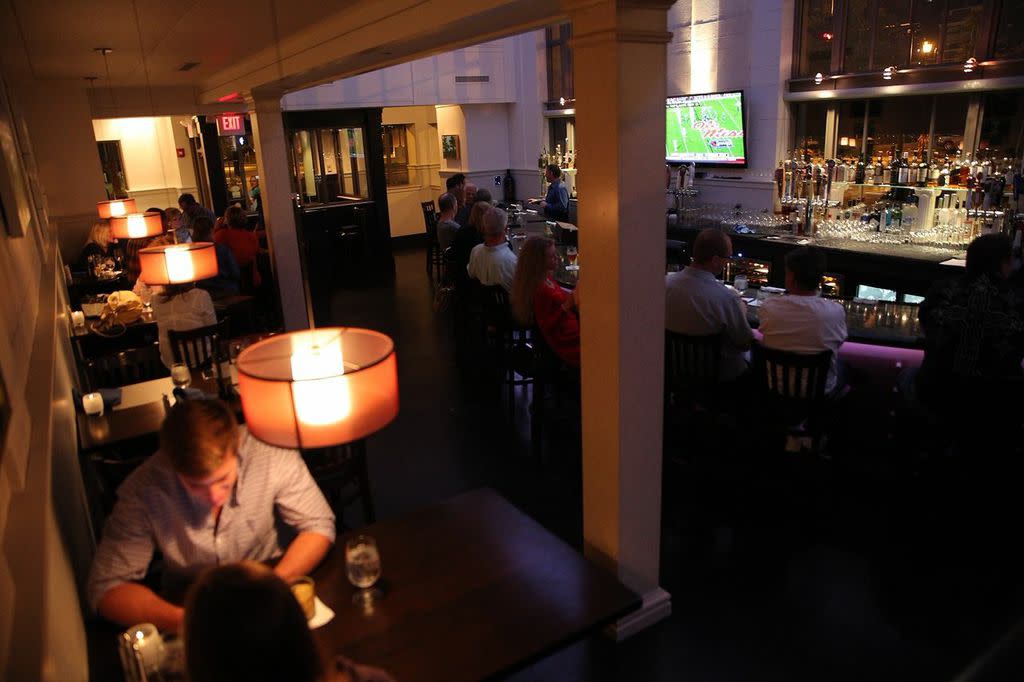 The menu at Café Navarre is full of flavor and creativity. The offerings change seasonally, with the Steak Frites being the only item to have continually stayed on the menu since the restaurant's opening. The restaurant always features a great seafood selection or two, decadent desserts (fabulous crème brulee), and these amazing starters:
French Onion Gratinee – Honestly, the BEST French Onion Soup in town! The flavors are so richly developed, the onions seem endless, and there is nothing wrong with an extra helping of Gruyere from time to time – DIVINE!
Navarre Salad – Made up of yummy greens, thin slices of apple, blue cheese, walnuts and a delicious balsamic dressing! Add a little chicken or salmon on top for an even more flavor-packed and healthy lunch.
The wine selection at Café Navarre is also among the region's best, featuring more than 100 variations from all over the world. Now, make your reservation, and head to downtown South Bend to experience some delicious food and great ambiance