2020 UPDATE: Due to coronavirus-related restrictions, Notre Dame is not hosting visitors during the 2020 season or putting on many of the events — tailgating, Friday pep rally, Player Walk, etc. — traditionally associated with a home game weekend. Tailgating is NOT permitted and visitors are discouraged from visiting campus. Anything found below this note reflects activities from previous seasons.
Many people travel to The Bend with the University of Notre Dame in mind. Its history is rich; its campus both scenic and serene. But the less familiar might be surprised to learn plenty of that history reaches out into the community. Whether you're here with family and friends or for a conference, Notre Dame and its ties to the area are worth exploring.
Doing so is easy — a detailed tour awaits and it can be accomplished in as little as one day. Let us show you how.
Explore Notre Dame's campus
No matter the season, Notre Dame's campus is picturesque. Guided walking tours are free and launch from the Eck Visitors Center. You can see all the main campus landmarks — the Grotto, Basilica of the Sacred Heart, the Golden Dome and Touchdown Jesus — this way.
Want to soak in campus on your own? No problem. Find visitor parking and do so on foot or unlock a Lime Bike for a two-wheel tour.
Grab Lunch in the Shadow of the Stadium
Make your way to Legends of Notre Dame, located a football field south of Notre Dame Stadium. Notre Dame memorabilia line the walls, offering diners plenty to see while enjoying classic American grub. Other campus dining options include Sorin's, Rohr's and Wind Family Fireside Terrace at the Morris Inn.
Tour Notre Dame Stadium
Here's your chance to see the House that Rockne Built up close. Stroll the concourse and learn about the many notable coaches then visit the press box for an elevated view. Photo ops abound  inside the locker room, on the field and in front of the "Play Like A Champion Today" sign. Find out more about stadium tours HERE.
Are you looking to host a meeting or conference? Notre Dame Stadium now boasts 100,000 square feet in meeting space. Contact VenueND to learn more about the amenities and features at these one-of-a-kind meeting spaces.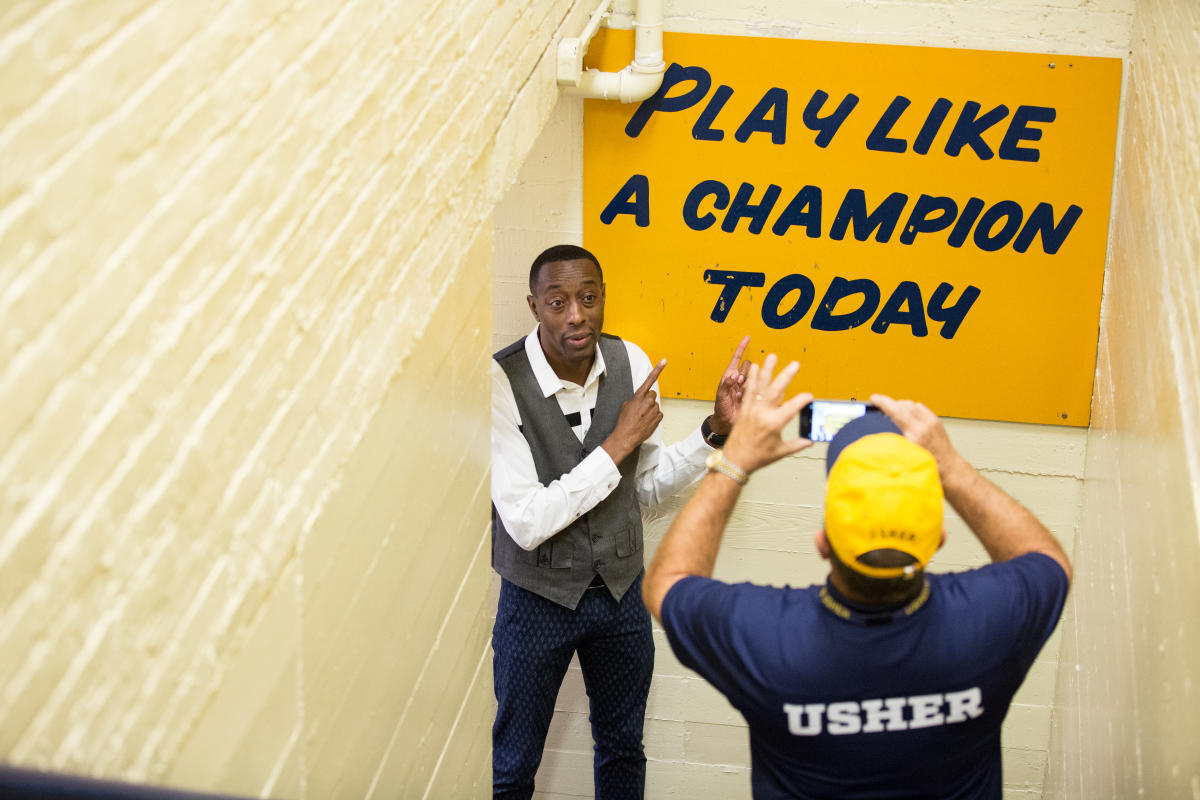 Head to the museum campus
Both the Studebaker National Museum and The History Museum have special ties to Notre Dame. Famed football coach Knute Rockne worked for the Studebaker company, which produced an automobile line bearing his name. The History Museum always has a Notre Dame-themed exhibit on display in its Raclin Gallery.
Dinner at Rocco's
Rocco's Restaurant, just blocks south of campus, is one of The Bend's institutions. Founder Rocco Ameduri worked as a cook in a Notre Dame dining hall before opening the restaurant in 1951 alongside his wife. Since then it's become a favorite place for pizza and Italian cuisine for locals and visitors alike, all the while continuing to cultivate a relationship with Notre Dame that dates back decades.
Midnight Drummer's Circle
A sight to be seen (and heard), this tradition marks the beginning of game day during home football weekends. The Notre Dame Drumline gathers outside the Main Building, with the iconic Golden Dome towering overhead, at midnight the night before the game. It leads the crowd in cadences and cheers to kick off game day.
Get a Good Night's Sleep
There are plenty of hotels on or near campus. Some great views of Notre Dame landmarks. Few can match the Morris Inn when it comes to comfort and convenience. Rated AAA 4 Diamond hotel, the Morris Inn boasts 150 rooms on campus within walking distance of the stadium. Three dining options — Rohr's, Sorin's and the Wind Family Fireside Terrace are on-site. The Morris Inn adds a touch of luxury to any Notre Dame visit. It's an ideal setting to rest up before game day gets rolling.
Insider Tip: Save yourself a drive from Chicago or another neighboring area by flying directly into South Bend International Airport for your next visit to The Bend. Four airlines — Allegiant, American, Delta, and United — provide nonstop flights to 12 major cities. It's easier than ever to visit Notre Dame and explore The Bend.