Sunset brings one of The Bend's finest public art displays to life.
Unveiled in 2015 as part of South Bend's 150th birthday celebrations, the South Bend River Lights are now a fixture of the downtown landscape. Vibrant color washes over the St. Joseph River, highlighting the "Keepers of the Fire" statue and the water as it rushes downriver.
It's not just something visitors can view. The River Lights are also interactive. Sensors built into the light pillars detect motion. They change color or their pattern when people walk by.
Simply put, there's no other attraction like it. And they're totally free to experience.
Ready to see the lights for yourself? Here's what you need to know.
Hours
The lights turn on a half hour before dusk and stay on until sunrise. The interactive features, however, stop at midnight. They operate 365 days a year. Yep, even during winter.
Best Viewing Spots
Seitz Park, Colfax Bridge, Island Park and Pier Park. There's 24-hour access at Island Park, which has drawn national acclaim, except during private events. Downtown South Bend parking is free after 5 p.m. on weekdays and all day on weekends. The best parking available for River Lights access is along Niles Avenue, at Century Center and at Seitz Park.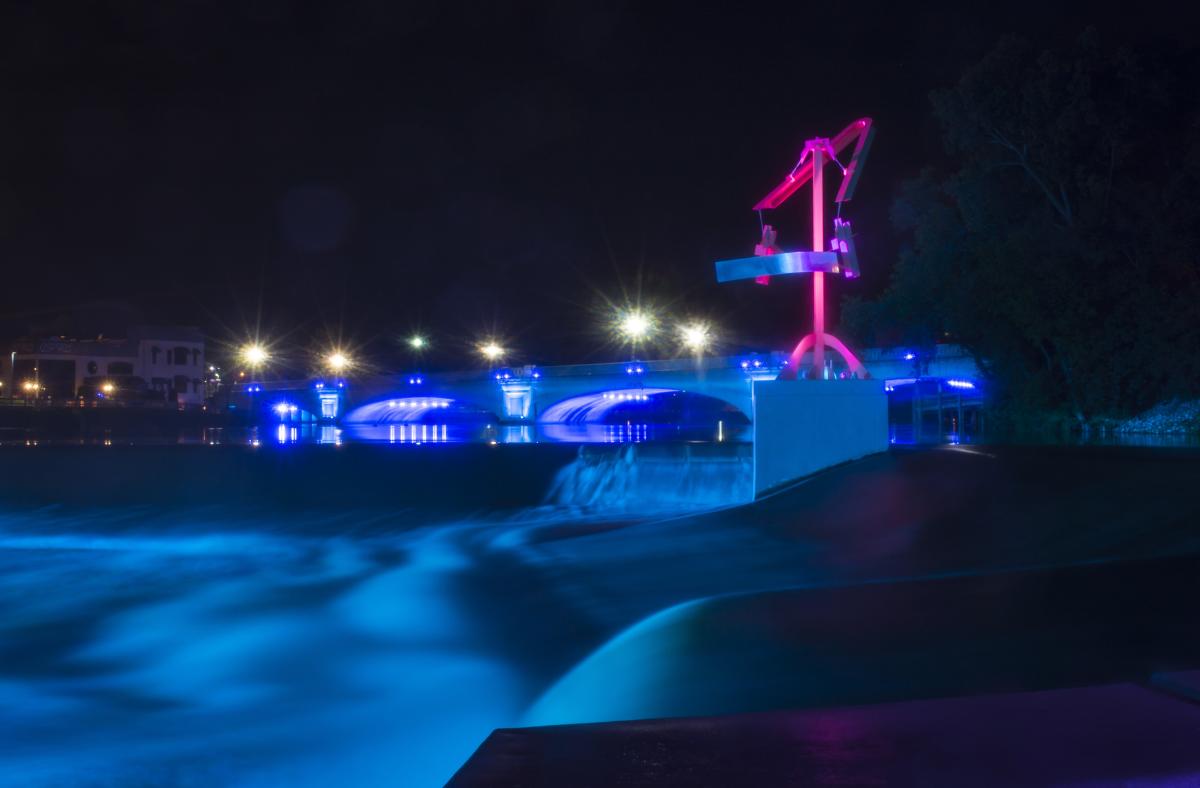 River Lights Insight
You can tell time by the River Lights. Really. The interactivity resets 15 minutes before each hour. During that time, white light shows the river in its natural state.
Themed Colors
Depending on what's happening in The Bend, the River Lights might be programmed to display specific colors. Some examples include red, white and blue for the Fourth of July or green ahead of a big Notre Dame football game. Special sequences have also taken place for St. Patrick's Day, Valentine's Day, Halloween and Christmas Day.
Keep an eye out for these special lighting opportunities throughout the year.