Nothing says summer quite like a road trip.
Plotting out the stops on your trip is just the beginning. You'll probably want to at least sketch out some activities before packing up the car (don't forget snacks!) and hitting the road. But where to begin?
The Bend is an ideal road trip hub, with plenty of top-flight attractions and hotel options for a comfortable stay. It's a central destination that can serve as a launching point for regional exploration to Lake Michigan, one of the nation's best wine areas, Amish country and beyond. Start by seeing everything The Bend has to offer, then extend your stay to see even more of the area.
We're less than two hours from Chicago, not quite three from Indianapolis, about four from Columbus, Ohio and around 3.5 from Detroit. After making that drive, being situated in South Bend offers myriad things to do.
Adventure Through South Bend
Begin your day with breakfast or brunch at one of the best spots in town.
You'll want to be fueled for what comes next. Head to Rum Village Park, a 160-acre spread on the South Bend's southwest side. It's home to Edge Adventures, an aerial park with treetop "trails" that range from 16 to 60 feet in the air with obstacles and zip lines. It's sure to bring on an adrenaline rush.
After you're done at Rum Village, head back to downtown South Bend. You might want to grab a bite to eat at The View Tavern (21+), home to the best burger in St. Joseph County, before visiting the East Race Waterway.
The first manmade whitewater course in America when it opened, the East Race is a cornerstone of South Bend summers. Splash your way down the course in a raft with friends.
Be sure line your trip up with a South Bend Cubs homestand. These Cubs, a Class-A affiliate of the Chicago Cubs, play at one of the best ballparks in minor league baseball. You'll find a family friendly environment with great food and promotions.
After the Cubs game, there's one more stop before the night is over. Take a stroll down the Jefferson Street or Colfax Avenue bridges for a fantastic view of the South Bend River Lights. This is your Instagrammable moment of the day.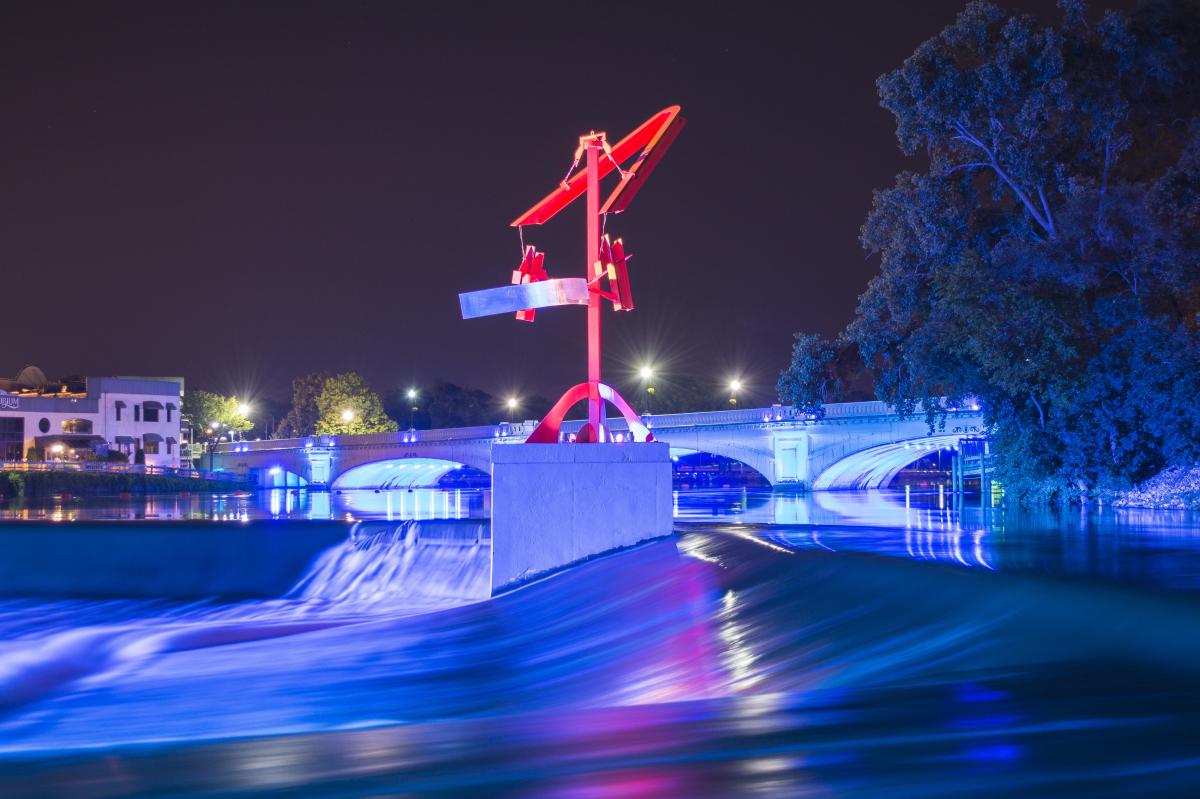 Save for a Rainy Day
Unfortunately, we can't control the weather. Here's a contingency plan for a rainy day: Get your museum on.
Studebaker National Museum and The History Museum sit on the same campus, just west of downtown South Bend. Studebaker puts beautiful classic cars on display while also telling the history of Studebaker Corp., a local carriage maker that later blossomed into a leading automobile manufacturer.
The History Museum takes a wider view by walking visitors through the story of our area dating back to the early days of European exploration. Its centerpiece is the beautiful, 38-room Oliver Mansion.
Now it's time to satisfy your sweet tooth at the next stop: South Bend Chocolate Factory & Museum. Take the tour to learn about the history of chocolate and how the various sweet treats are produced. You'll probably want to purchase some in the store before moving on to your next stop.
Take your chances on the massive gaming floor at Four Winds Casino South Bend. You can also get a great meal at Copper Rock Steakhouse (fine dining) or Kankakee Grille, a more relaxed setting with craft beer and a menu featuring "comfort food with a twist."
If you're looking for more family friendly options, burn off some energy at Sky Zone Trampoline Park or Strikes & Spares Entertainment Center.
Now it's time to see more of the area.
Branch Out to the Beach
Just a 53-minute drive from South Bend, one of the country's newest national parks is calling.
Originally Indiana Dunes National Lakeshore, this stretch of Lake Michigan shoreline was designated a national park in 2019. Indiana Dunes National Park stretches for 25 miles and covers approximately 15,000 acres.
First, stop by the visitor center (1215 N. State Road 49 Porter, Ind.) just outside the park to get any information you might need. Upon entering the park, you'll find a plethora of recreational activities.
You can simply enjoy a beach day, bike, hike, fish, watch for unique bird species and more. There are miles of trails at your disposal, plus the wildly popular sand dunes to climb. You're not likely to find better views of the lake and surrounding area than atop the dunes. If you're looking for a great photo, get an elevated view of the lakeshore at sundown.
Ship Out to Shipshewana
Drive an hour east of South Bend to Shipshewana and you'll be enveloped in Amish culture.
Shoppers and bargain hunters will want to mark this trip for a Tuesday or Wednesday between May and September so they can visit the Shipshewana Flea Market. The largest flea market in the Midwest, it's been operating since 1922. With 700-plus vendors, there's a wide variety of great finds.
Peruse the market in the morning but save room for lunch at the Blue Gate Restaurant & Theatre. Here you'll find traditional Amish platters like the Country Sampler (chicken, meatloaf, mashed potatoes, etc.), Amish Chicken and Noodles and more. Prepare for the inevitable food coma afterward.
You can walk off that lunch by visiting the Menno-Hoff Museum, which teaches visitors about the faith and life of Amish and Mennonites, and the Dutch Creek Farm Animal Park (pictured below). Take a safari-style wagon ride to catch all sorts of domestic and exotic animals, like zebra and antelope.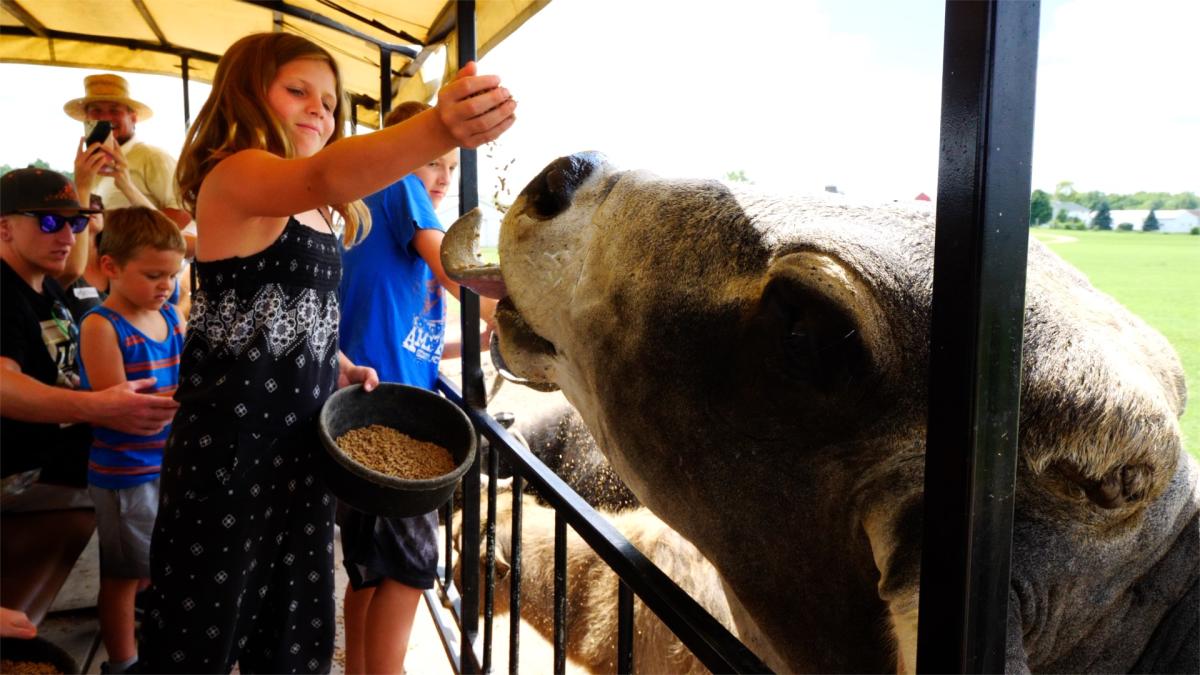 Sip Through Southwest Michigan
Did you know a roughly 40-minute drive from South Bend puts you in the heart of one of the country's preeminent wine areas? Now you do! And there's more.
Start your journey by driving from South Bend to the Southwestern Michigan Tourist Council Information Center (2300 Pipestone Rd. Benton Harbor, Mich.), where you can pick up a Makers Trail passport. This will be your guide to more than 40 craft breweries, wineries and distilleries.
Wine lovers will particularly enjoy some of Michigan's very best: Gravity, Dablon, Tabor Hill, Round Barn and more. Greenbush Brewing Co. and Transient Artisan Ales are among the must-visits for beer drinkers.
Iron Shoe and Journeyman are among the distillery stops.
At Round Barn, you can find a little bit of everything. One of Southwest Michigan's most popular destinations makes wine, beer and spirits, plus regularly hosts live music during summer.