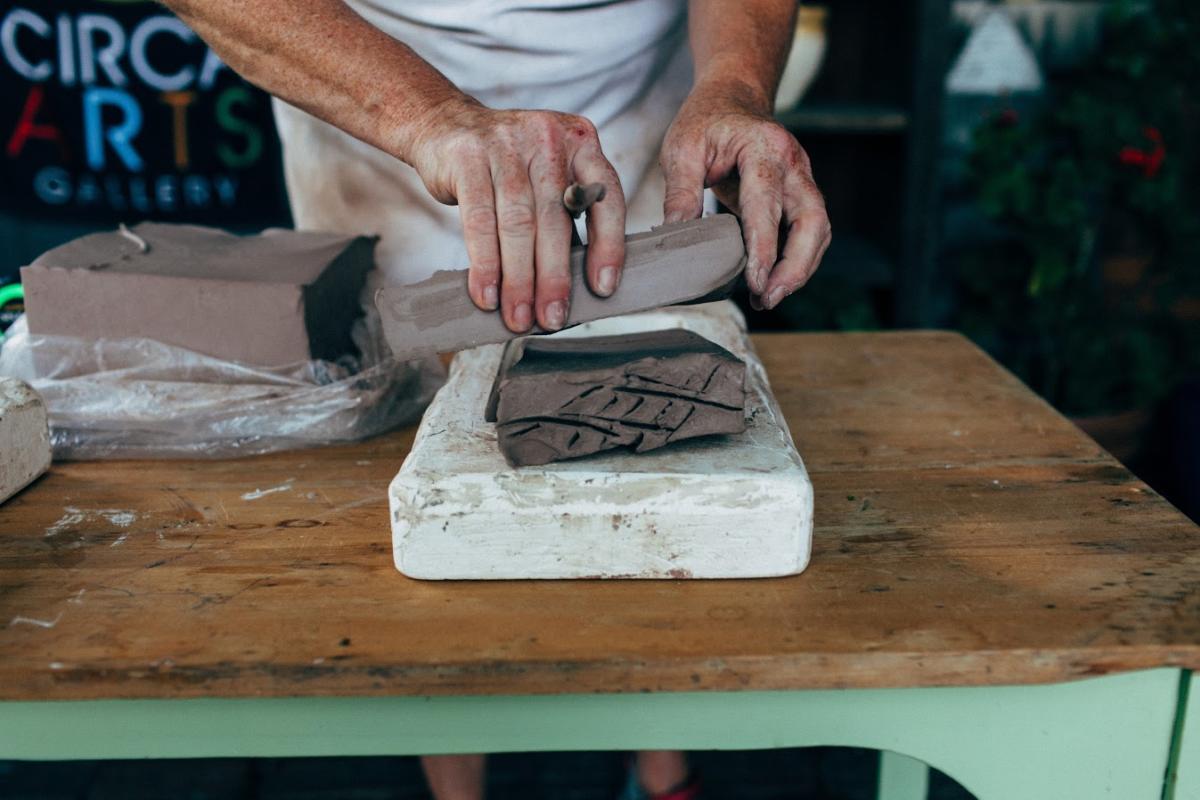 It was a sunny day at the beginning of August, comfortably warm, slight breeze… a quiet, gentle day. Michael Newsted and I arrived early and chatted for a while with Kathy… we poked around the shop… turning over ceramics, and eyeing many of the beautiful paintings on the wall. On our way downstairs we discovered Kathy in her ceramics studio… gathering a few supplies.
I had known Kathy Reddy White for several years. She is a kind-hearted soul who also happens to be a huge force for creative growth in South Bend… a visionary who foresaw the re-development of downtown, and has been a pioneering presence in the East Bank Village. I stumbled in to her gallery in 2009, and we have been talking and dreaming together ever since. On this particular day she had her hair pinned effortlessly back, and wore an apron.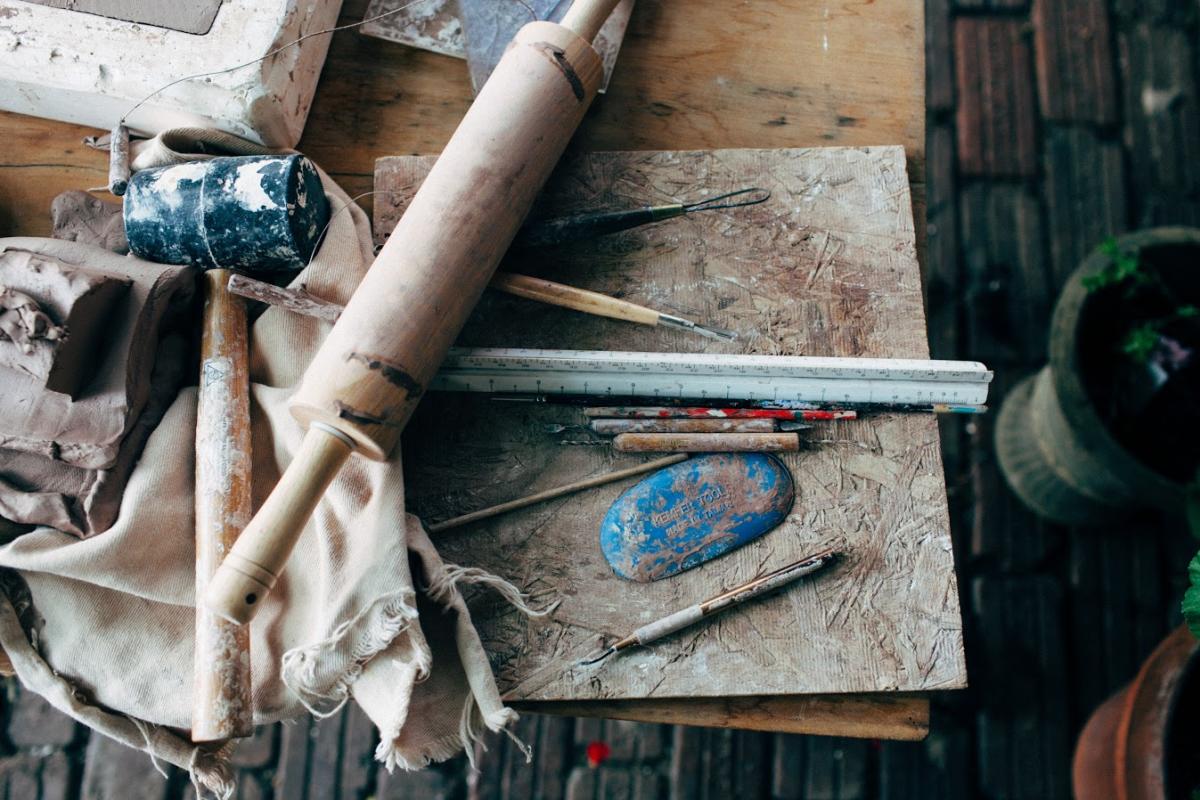 After introducing her to Michael, and catching up a bit on the previous few months, we traded the coziness of the basement studio for the dappled light of the back patio, overhung with branches, and vines… this was the perfect terrace for our day's project. Michael, Kathy and I carried up supplies… raw clay… boards, tools, smaller instruments… and then we got to work. Kathy was going to teach us how to make her famous tiles… and Michael was there to photograph.
I have worked in clay before, but this was an opportunity to learn from a master. Kathy is renowned for her tiles, as well as her "wabi-sabi" aesthetic- valuing imperfections as an integral part of beauty. As she walked us through the process, this idea came up repeatedly… here, a scar, a mistake, a flaw… becomes the most exciting element of the work. Even before this lesson, I had been aware of the concept, but this day it struck me as a revelation. That is what Kathy does… she weaves beautiful little ideas into her conversations and creations- every interaction a remarkable discovery of a beautiful, imperfect world.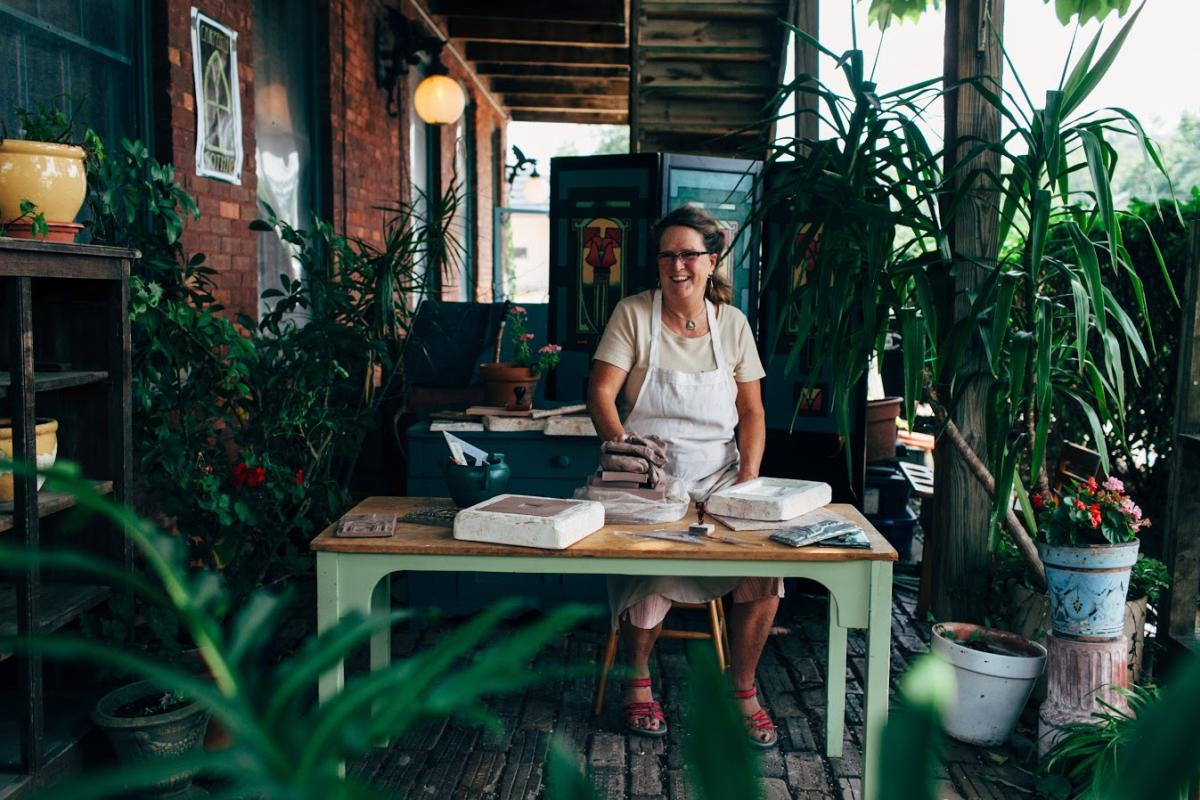 You can find Kathy, and her shop Circa Arts Gallery at the corner of Colfax and Hill streets. Circa Arts specializes in Arts and Crafts furniture and art, but also features Kathy's lovely hand-made tiles, as well as a variety of smaller gift-sized items. It is a place I return whenever I visit South Bend.