Every detail matters when it comes to planning a great event.
Compelling destination. Convenient location. Versatile meeting space. Multiple breakouts. Delicious food. Flawless audio-visual capabilities. Responsive sales staff. Hotel rooms aplenty. Ample parking.
Rare is the venue that can roll all those things into one package. Then again, the Gillespie Conference and Special Events Center is no ordinary place. Gillespie and its two on-site hotels — the Hilton Garden Inn and the Inn at Saint Mary's — make for an all-inclusive experience.
Contact LeAnn Allen, Regional Director of Sales & Marketing, for more information.
Six Spaces in One Location
Gillespie is home to six distinct spaces available in several setups. Whether it's a wedding, corporate retreat, conference or anything in between, there's a space at Gillespie that can accommodate your group.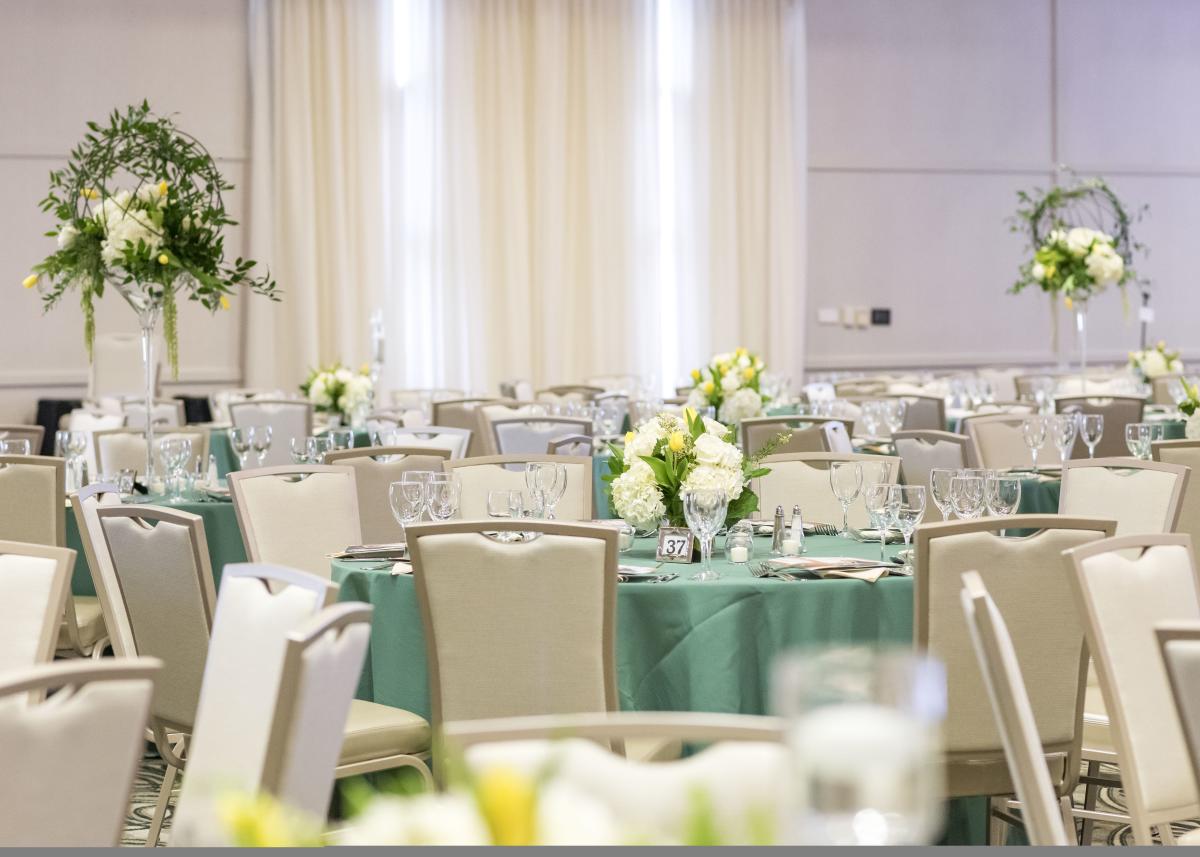 Fleur de Lis Ballroom: This is the largest space at 8,400 total square feet. It features several room configurations and an ample pre-function area for registration tables or receptions. It can hold up to 840 guests depending on the event and transformed to reflect your personal style.
Notre Dame Room:  Ideal for smaller events, this room checks in at 1,800 square feet. It best accommodates seminars and group sessions and can be split into three identical rooms for breakouts. Its location offers access from within the Hilton Garden Inn and the patio area outside the Fleur de Lis Ballroom.
Coaches Boardroom: Perfect for a small, private meeting, this boardroom is a retreat unto itself. Could it be home to your next executive session or your conference headquarters? The room's 325 square feet are both functional and intimate.
Lemans Room: Situated inside the Inn at Saint Mary's and adjacent to Gillespie, the Lemans Room is 600 square feet of versatility. It can be utilized for breakout sessions, pre-planning meetings or as a hospitality room. It includes audio-visual, a smart TV and up lighting.
The Garden: Does it get better than unwinding after a day of sessions than stepping outside for a little fresh air? The Garden is an ideal spot for a pre-dinner cocktail. It covers 2,500 square feet with beautiful landscaping, flowing fountains and a touch of privacy for your group.
The Patio: Another fantastic outdoor space, The Patio is a great place to unwind after a long business day. It covers 2,000 square feet and is centrally located between the Fleur de Lis Ballroom and the Notre Dame room. It's a truly convenient social area for attendees.
Hotel Rooms, Amenities and More
Two hotels on the same property offer significant convenience.
Connected to Gillespie, the Hilton Garden Inn has 100 guest rooms. It also features Bistro 933, a not-to-be missed on-site restaurant that's ranked No. 8 on TripAdvisor among South Bend's best restaurants. Bistro 933 is open seven days a week, offering cooked-to-order breakfast and dinner. Daily specials keep things interesting while the menu boasts options like crab cakes, Thai chicken and shrimp and the 933 Filet. Simply put, Bistro 933 is one of The Bend's finest restaurants.
RELATED CONTENT: Explore Bistro 933's menu
The Inn at Saint Mary's (pictured below), next door to Gillespie, is an independent boutique hotel with 150 guest rooms, including suites. The Inn's hospitality is second to none, starting with an excellent breakfast and Innjoy Café, which proudly serves Starbucks coffee to start your day. You can cap the day at the Atrium lounge with nightly cocktail specials.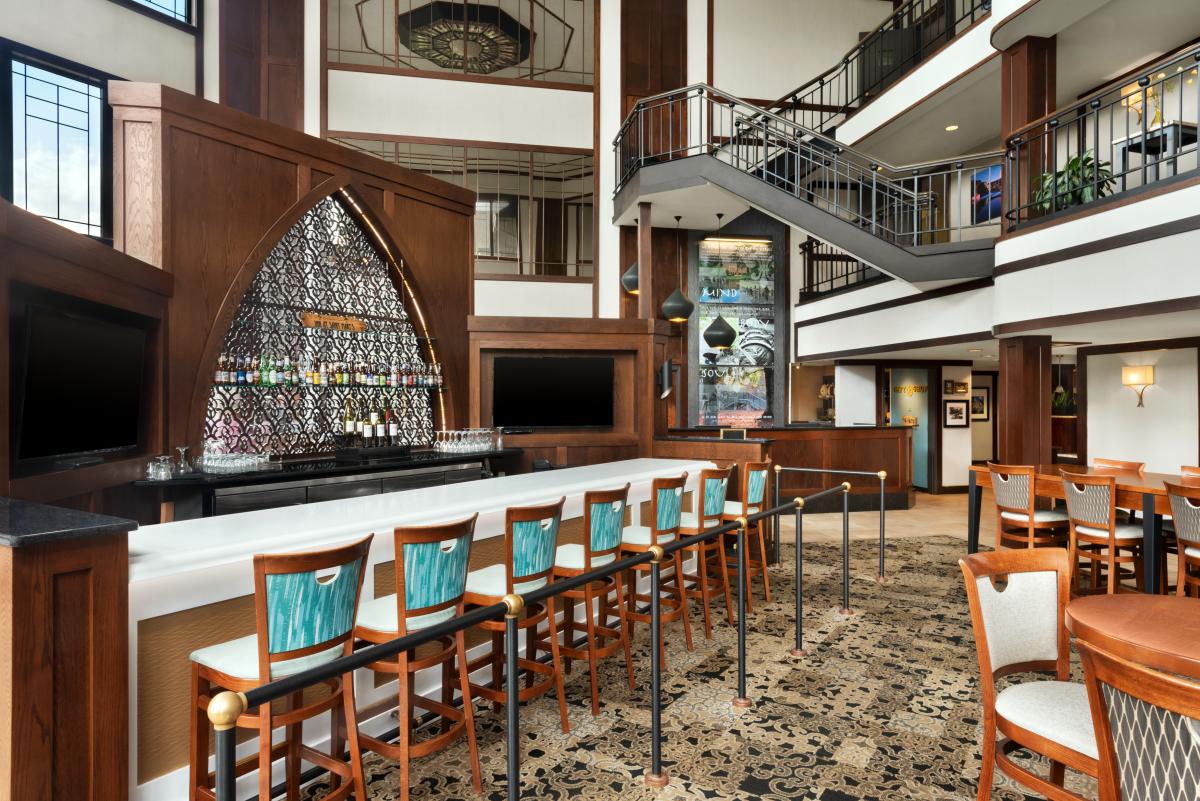 Connected to the Community
Given the hotel space and event venues, it might seem like this property is tucked in some out-of-the-way place.
In fact, it's just the opposite. Gillespie and its hotels are located off Exit 77 of the Indiana Toll Road. That offers a direct line to Chicago and the rest of the Great Lakes region. Once you're off the Toll Road, State Road 933 connects you to the community.
You're already on the campus of Saint Mary's College. The University of Notre Dame, one of the most beautiful college campuses in the country, is within walking distance. Turn south and you're minutes from downtown South Bend's restaurants, attractions and night life. Complimentary shuttle service can take you around town and to South Bend International Airport.
Whatever you'd like to do outside your event, it's easily at your disposal. The Bend is likely to make your visit one you won't soon forget. Let us show you how.