History isn't only meant to be viewed through glass cases inside museum.
Another perspective is available to those that seek it, one where the past becomes a little more vivid. You can bring some of The Bend's history to life in this way by traveling the Studebaker-Bendix Heritage Trail, which explores two companies that shaped South Bend and the surrounding area in indelible ways.
Studebaker Corp. and Bendix Corp. left their mark on The Bend through the factories and homes they built and the churches they funded. Studebaker started by making carriages then grew into a leading automobile manufacturer. Bendix is best known for its move into aeronautics.
Their legacies are intimately intertwined with the community. The best way to understand their stories is by traveling the Studebaker-Bendix Heritage Trail.
You can do this in about 90 minutes by car, including museum visits. Let us show you how with this stop-by-stop guide (find a map at the bottom for reference). All locations are in South Bend unless otherwise noted.
LEARN MORE: Take a history tour of The Bend
Studebaker Blacksmith Shop and Carriage Factory Site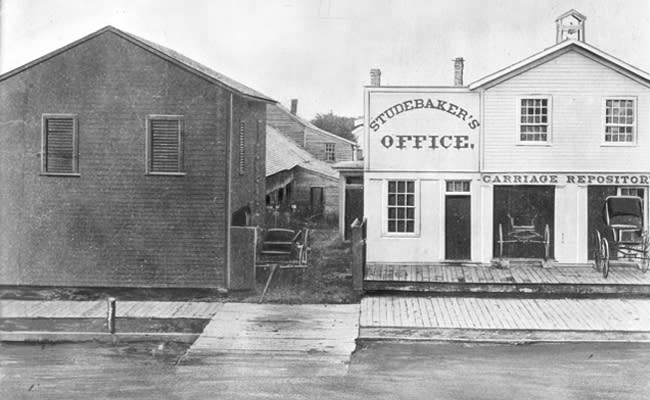 Location: Corner of S. Michigan Street and E. Jefferson Boulevard
Emigrating from Gettysburg, Pennsylvania, via Ashland, Ohio, the Studebaker brothers constructed their first blacksmith shop and carriage, factory on this site in 1852. Located in the heart of South Bend's growing business district near the St. Joseph River to the east, the Studebakers' business grew rapidly as a supplier of wagons during the Civil War. They remained on this site until the late 1880s. Production then moved to Studebaker's newer plant south of downtown.
Highway Marker
Location: Southwest corner of W. Washington and Michigan Street; JMS Building — 108 N. Main St.
Transportation and the movement of goods played an important role in the South Bend's growth. As car traffic increased, major highways intersected here. These included Lincoln and Dixie Highways and the Michigan Road. John M. Studebaker constructed the JMS office building (pictured) in 1909. It was South Bend's tallest building at the time of its construction and was connected to other nearby buildings by tunnels.
Studebaker Administration Building 
Location: 635 S. Main St.
Designed by noted Chicago architect Solon Beman, who also did the JMS Building, Studebaker constructed this Administration Building (corner of Bronson and Main) in 1906. The company was still manufacturing carriages and wagons but was moving into automobiles. Clad in oversize brick resembling street pavers, the building housed engineering, sales, accounting and executive offices. It provided state of the art employee perks such as a men's and women's gym, bowling alley and cafeteria.
RELATED CONTENT: Classic Cars at Studebaker National Museum
Industrial architect Albert Kahn designed the 1923 Body Assembly Building west of the Administration building at 635 S. Lafayette Blvd. It is a simple industrial design with exposed concrete structure and large windows to provide ample light for workers. This building was where Studebaker automobile bodies were built before heading to the final assembly line.
Studebaker Factory Site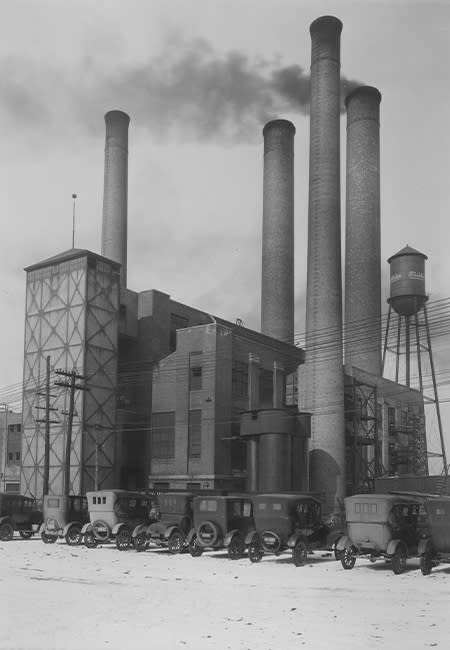 Location: Sample Street
You are now standing in the middle of what grew to become the 120-acre Studebaker factory site. The central power plant provided power and heat via tunnels to the entire complex. It sat approximately where the South Bend Police station is now. At its peak in 1950, the complex employed 24,000 workers and produced 343,000 automobiles.
Oliver Factory Site
Location: 918 Oliver Ct.
This is the former factory site for Oliver Chilled Plow Works, credited with the cultivation of the western prairie. The power plant you see provided power to the factory and J.D. Oliver's home a few blocks north — the first home in South bend to be electrically lit. Although not directly related to Studebaker and Bendix history, Oliver Chilled Plow is another example of a world-known industry in South Bend. See the interpretive plaques on site for more information.
Museums at Washington and Chapin 
Location: 201 S. Chapin St.
Explore the Studebaker National Museum and The History Museum. Here you'll experience a rich collection of historic Studebaker carriages, wagons and automobiles, tour the home of J.D. Oliver and learn more about the early history of South Bend and St. Joseph County.
RELATED CONTENT: Explore Local History at The History Museum
Tippecanoe Place 
Location: 620 W. Washington St.
The West Washington neighborhood was home to many of South Bend's successful businessmen. Here Clem Studebaker constructed his family home, Tippecanoe Place, designed by Chicago architect Henry Cobbs. Completed in 1889 in the Richardson Romanesque style, it completely burned and was rebuilt a year later. At one time it had a matching carriage house. Fire destroyed it in the 1960s. Tippecanoe Place, a National Historic Landmark, is now one of South Bend's most popular restaurants.
Former First Presbyterian Church 
Location: 302 W. Washington St.
In addition to constructing factory facilities, family homes and buildings for other commercial ventures, the Studebakers funded parks, hospitals and churches. John M. Studebaker donated funds to help construct the Romanesque-style former First Presbyterian Church with its massive stone walls and tower. Peter Studebaker helped fund Saint James (117 N. Lafayette Blvd) in a simplified Gothic with red brick.
St. Paul's memorial Methodist Church
Location: 1001 W. Colfax Ave.
The history here: Clem Studebaker funded the construction of St. Paul's in a Gothic style of cut limestone. Today it's part of the W. Washington National Historic District.
City Cemetery 
Location: 214 Elm St.
City Cemetery, established in 1832 and now listed on the National Register of Historic Places, is the oldest formal cemetery in South Bend. Here you can see the final resting place for many notable South Bend families, including several of the Studebakers and former vice president Schuyler Colfax. Look for the original mausoleum for Peter Studebaker and the obelisk where he is buried. Stop by the sexton's office for a map with the cemetery's history and burial sites. Be sure to check out the location of the failed Kankakee Mill Race and its remaining stone bridge.
Bendix Corporation Headquarters 
Location: 401 N. Bendix Dr.
Vincent Bendix in 1923 started Bendix Corporation, growing the company into a worldwide producer of automotive and airplane brakes, carburetors and starting drives. Bendix Aviation launched in 1929. Here Bendix constructed the first office and factory. Bendix in 1971 introduced the first anti-lock braking system for automobiles. It was eventually purchased and merged with Allied Signal and later with Honeywell and Bosch.
Bendix Field/South Bend International Airport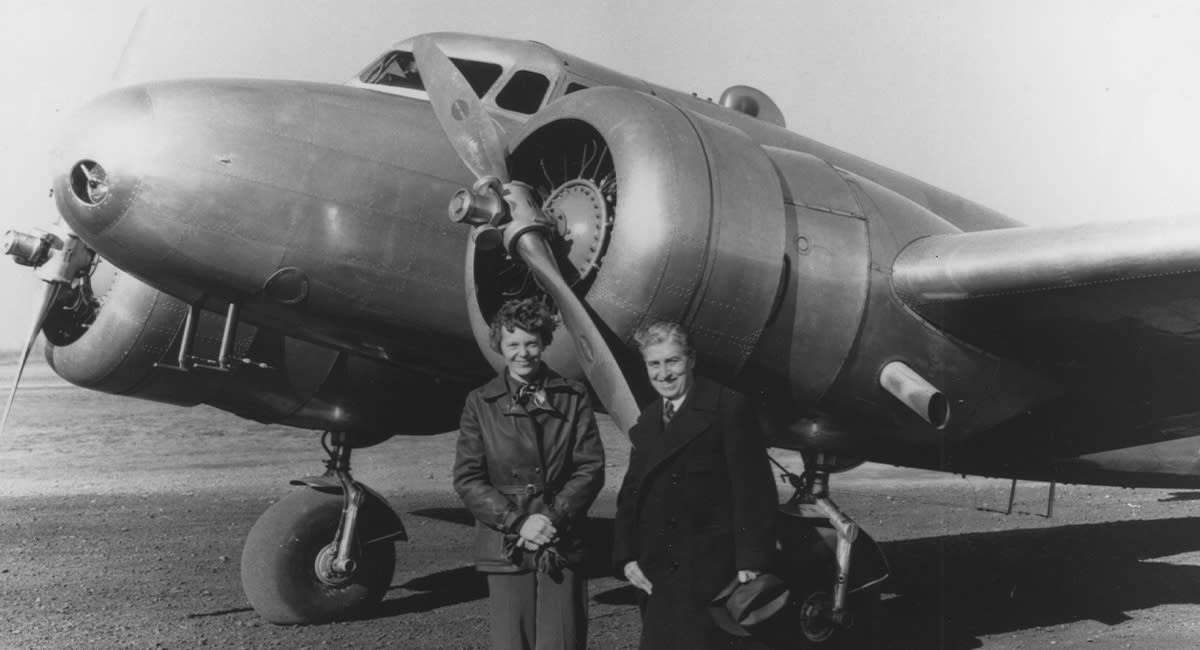 Location: 4477 Progress Dr.
Park in the short-term lot and visit the displays upstairs in the terminal at the South Bend International Airport, where you'll learn more about South Bend's link to early aviation history. Vincent Bendix started constructing the airport, with its dirt runway, in 1929. Several notable early aviators visited, including Amelia Earhart. Bendix started The Bendix Trophy — a transcontinental U.S. race from Los Angeles to Cleveland — to encourage the development of efficient aircraft for commercial aviation. The race continued annually from 1931 to 1962. A speed of 223 miles per hour won the first race.
Bendix Woods County Park 
Location: 56960 Timothy Rd., New Carlisle
The current site of Bendix Woods County Park was first developed by Studebaker Corp. as its automotive proving grounds. It featured a clubhouse built in 1926 (today park offices at the east end of the park), a test track and a road course. Studebaker planted 8,000 pine trees to spell the company's name as a salute to the aviation industry. The half-mile sign is still visible from the air today. When Studebaker closed, Bendix acquired the property and donated a portion in 1966 to the newly formed county park board. Navistar currently uses part of the original proving grounds.